Neue Nationalgalerie
The Neue Nationalgalerie is an icon of modern architecture. The building has not had an extensive renovation since its opening in 1968. The planned refurbishment will bring the Mies building up to date.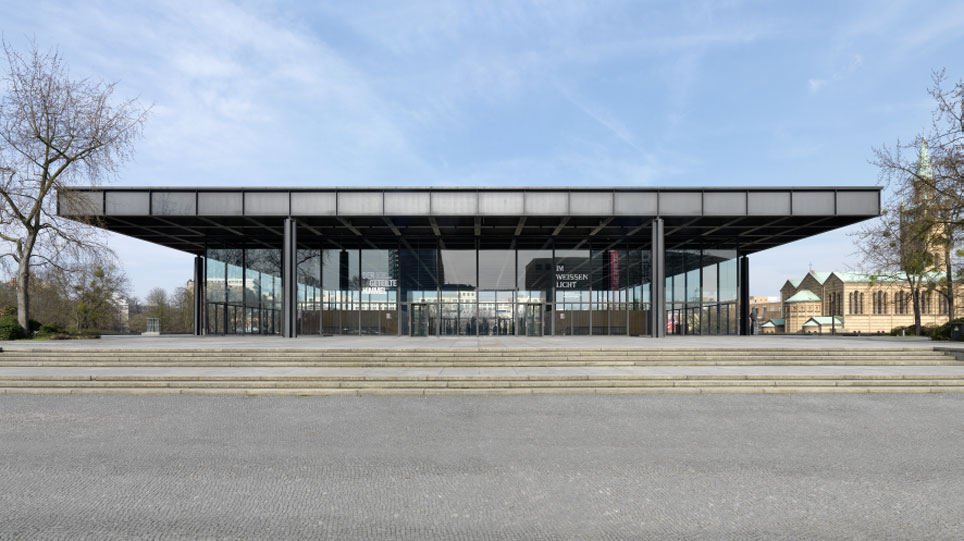 A Landmark of Modernism
The Neue Nationalgalerie was built from 1965 to 1968 based on designs by Ludwig Mies van der Rohe. It is the only building by that architect to be realized in Germany after the Second World War. The building is a landmark of modern architecture and is included in the State of Berlin's register of historic buildings.
The Individual Projects of the Complete Restoration
The restoration of the building will include the refurbishment of all the constructional elements, the restoration of the visible surfaces, the renovation of the building facilities, and an improvement of the service areas.
The firm of David Chipperfield Architects was commissioned with the planning and implementation of these restoration projects in 2012. Chipperfield previously directed the reconstruction of the Neues Museum, which opened in 2009. The James-Simon-Galerie on the Museumsinsel is currently being built based on their design.
The building was closed to the public in 2015. The building work is scheduled to continue for four years.
Additional Information on Construction Activity
Link for Additional Information
Bereichsnavigation
---