Bereichsnavigation
Museumsinsel Master Plan
The Museumsinsel is a unique architectural ensemble and a UNESCO World Heritage Site. The renovation of its historical buildings and the development of the island for the future follow a master plan.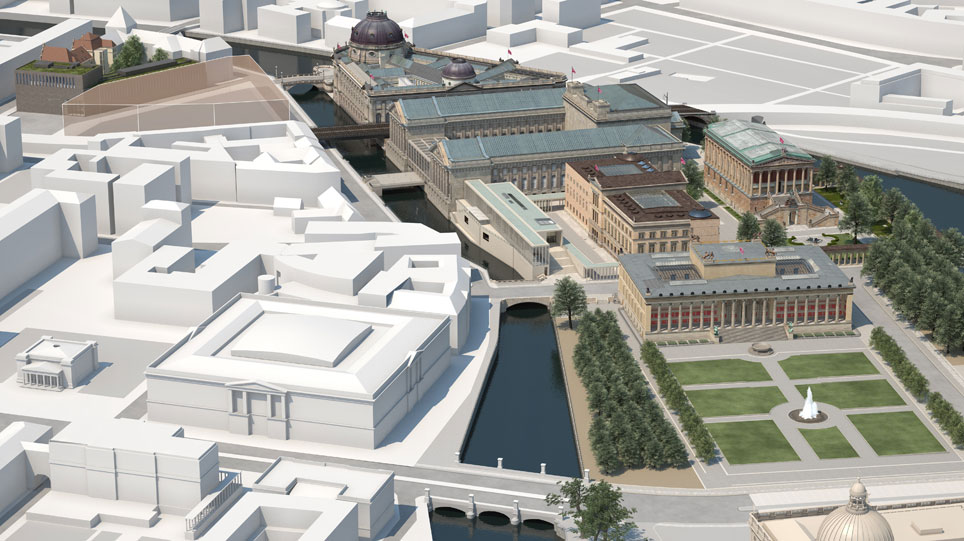 The Master Plan to Restore and Develop the Museum Complex
There are five historical buildings on Berlin's Museumsinsel (Museum Island), which opened between 1830 to 1930: the Altes Museum, the Neues Museum, the Alte Nationalgalerie, the Pergamonmuseum, and the Bode-Museum. Following German reunification and the merging of the Staatliche Museen in East and West Berlin, the need to renovate the buildings quickly became evident. In addition, the Foundation has the goal of redesigning the Museumsinsel into a contemporary museum complex. To that end, it developed the Museumsinsel Master Plan. This extensive restoration and modernization plan was passed by the SPK's Foundation Board in 1999. It is the basis for all of the construction projects on the Museumsinsel.
Protecting the Historical Building Fabric
The Museumsinsel Berlin is an outstanding historical ensemble of buildings and is a UNESCO World Heritage Site. The master plan takes this into account as well. All of its construction projects are coordinated closely with the authorities responsible for protecting historical buildings.
Three of Five Historical Buildings Have Been Reopened
Three of the five historical buildings have already been finished and reopened: the Alte Nationalgalerie, the Bode-Museum, and the Neues Museum. The first of the outdoor spaces, the Kolonnadenhof (Colonnade Courtyard), has also been finished. The new building for the Archäologisches Zentrum (Archaeological Center) is already open as well. It is not located directly on the Museumsinsel, nor did it have a historical predecessor there, but it is an important part of the master plan. As an administration and service center, it makes it possible for the floor space on the island to be dedicated entirely to the presentation of the collections.
Additional Construction Projects Leading to Completion
Over the next decade, work on Berlin's Museumsinsel will be completed according to the master plan. The restoration of the Pergamonmuseum has been underway since 2012. The James-Simon-Galerie is currently being built as a new entrance building to the Museumsinsel. The foundation stone was laid in autumn 2013. The Altes Museum will be the last of the five historical buildings to be renovated. In all of the historical buildings with the exception of the Alte Nationalgalerie, the rooms on the ground floor were converted. When construction is completed, they will be linked to the so-called Archäologische Promenade (Archaeological Promenade). The outdoor spaces on the Museuminsel will also be finished by that point, permitting visitors to take a leisurely stroll across the island.
Completed Projects of the Museumsinsel Master Plan
Details on the Museumsinsel Master Plan
Links for Additional Information