Provenance Research on the Mosse Collection
News from 05/02/2018
A new media station in the Alte Nationalgalerie and an online portal with recent research results on the Mosse Collection were launched today in the presence of Roger Strauch, president of the Mosse Foundation.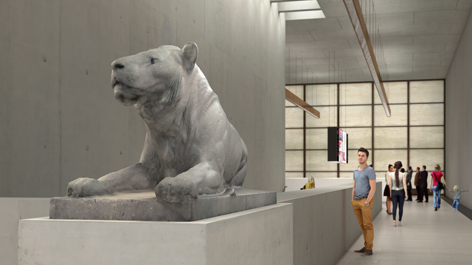 One year ago, the Mosse Art Research Initiative (MARI) was launched. The aim of MARI is to reconstruct the extensive art collection of the Jewish publisher Rudolf Mosse (1843-1920) and to investigate where the works that were taken by the National Socialists are currently located. The results are recorded in a research database, the MARI online portal. Roger Strauch, head of the Mosse Art Restitution Project and president of the Mosse Foundation, stated: "This collaboration is unprecedented and represents the generous spirit of the German government and the country's cultural institutions and their leadership. We are also appreciative of the talented provenance community and its tenacity in this search for Mosse artifacts."
The Prussian Cultural Heritage Foundation (SPK) is involved, among other institutions, in this cooperation project. Long before the project was launched, SPK had identified nine works from the Mosse Collection in its collections and returned them to the heirs. With the support of the Kulturstiftung der Länder and the Federal Commissioner for Culture and the Media, SPK was able to acquire three of these works for the Staatliche Museen zu Berlin, most recently "Susanna" by Reinhold Begas for the Alte Nationalgalerie. A media station next to the sculpture of Susanna describes the history of these objects.
Links for Additional Information
To overview