"Brauchen wir wieder eine Revolution?" fragt SPK-Jahresbericht 2020
News from 06/17/2021
We apologize that this content is available in German only.
Unter dem Thema "Pandemie und Wandel" widmet sich das neue Jahresheft den Dingen, die die SPK 2020 bewegten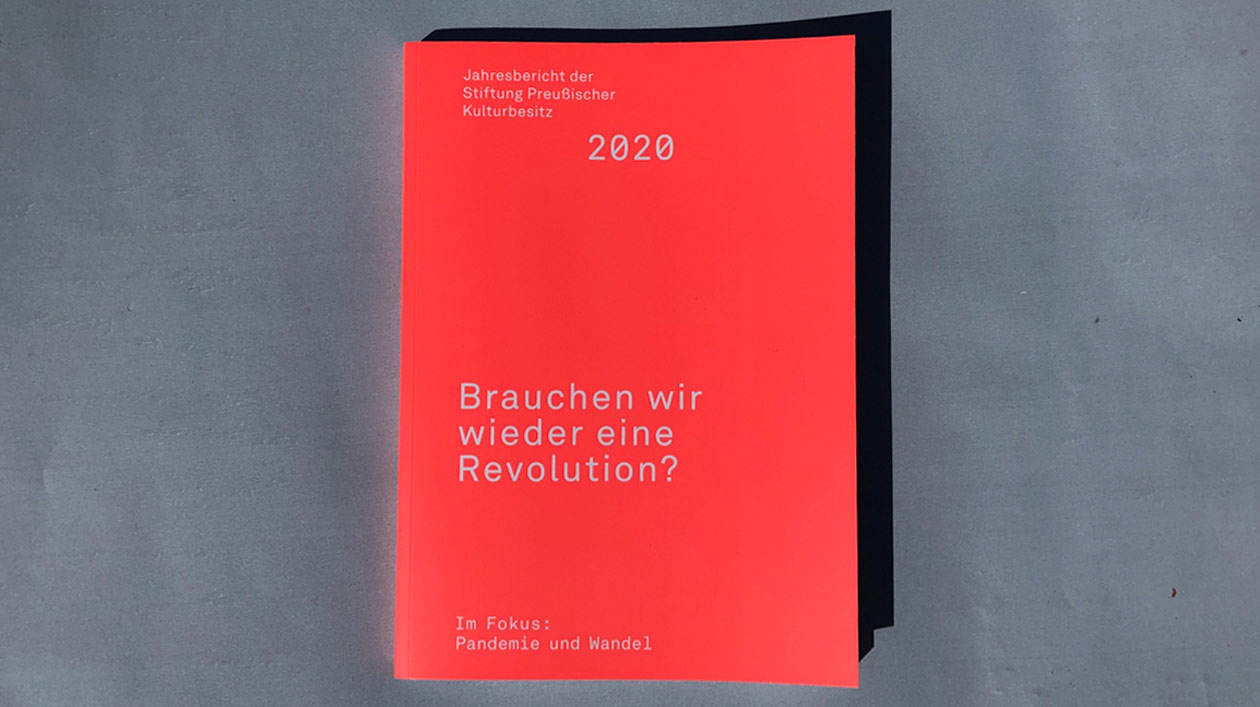 Das zurückliegende Jahr war für alle und natürlich auch für die SPK besonders herausfordernd – und hatte neben allen Widrigkeiten aber seine guten Momente. Welche wichtigen Ausstellungen, spannenden Baufortschritte, interessanten Forschungsprojekte und erfolgreiche Aktionen aus dem Bereich Bildung und Vermittlung trotz Pandemie und Einschränkungen stattfanden, steht im nun erschienenen Jahresbericht: Von der Ausstellung "Germanen. Eine archäologische Bestandsaufnahme" über das Beethoven-Jahr in der SPK zur Aktion #CollectingCorona des MEK. Außerdem: Ein Interview mit Barbara Göbel, Direktorin des Ibero-Amerikanischen Instituts (das 2020 seinen 90. Geburtstag feierte) zu dem internationalen Verbundprojekt MECILA – Maria Sibylla Merian Centre for Advanced Studie in the Humanities and Social Sciences Conviviality-Inequality in Latin America und zu den Herausforderungen internationaler Zusammenarbeit in Pandemiezeiten; sowie detaillierte Zahlen zum Stiftungshaushalt und den Besucher*innen und Nutzer*innen aller fünf Einrichtungen.
2020 war für die SPK nicht nur das Jahr der Pandemie, sondern auch das Jahr des angekündigten Wandels. Im Sommer stellte der Wissenschaftsrat sein Gutachten vor, das eine Debatte über die Struktur der SPK auslöste. Wie es generell um die Zukunftsfähigkeit von Kulturverbünden bestellt ist, welche Chancen die Vernetzung des Wissens bietet und welche Gewissheiten nach der Pandemie bleiben, versucht ein Gespräch zu klären, zu dem SPK-Präsident Hermann Parzinger Ulrike Lorenz, die Präsidentin der Klassik Stiftung Weimar, eingeladen hat.
Weiterführende Links
To overview