Cooperation with Angola: More Transparency for Collections from Colonial Contexts
News from 05/17/2022
Ceremony in Luanda celebrates opening of restoration department and handover of collection inventories from Berlin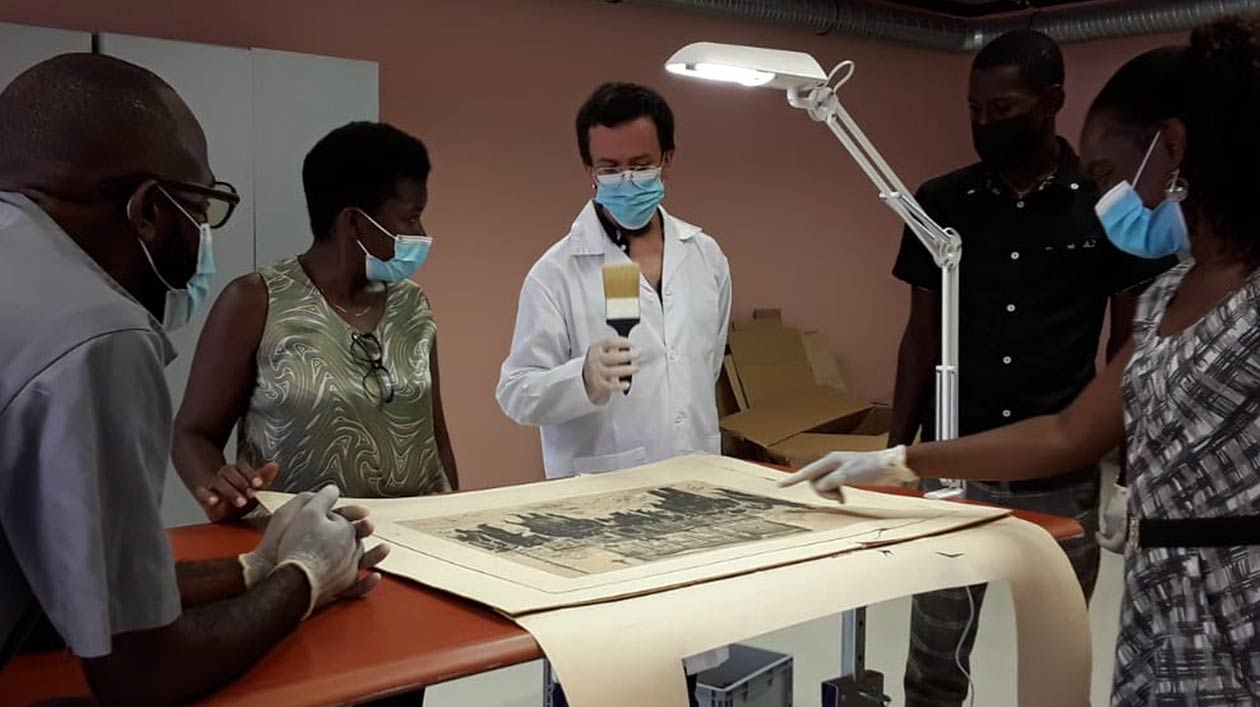 At a ceremony on May 17, 2022, the Angolan branch of the Goethe Institute presented the Angolan Ministry of Culture with a translation of the entire inventory, comprising several volumes, of the Ethnologisches Museum's Angolan collection. The partners intend this gesture to foster greater transparency in the debate on collections that originated in colonial contexts.
This was also the occasion of the official opening of the new department of preventive conservation and restoration at Angola's Museu Nacional de Antropologia. The conservation department is one element of a broad, longer-term cooperative project agreed in December 2018 by the directorates of the National Museums of Angola, the Stiftung Preussischer Kulturbesitz and the Goethe Institute.
As part of the project, a Brazilian conservator-restorer will offer a ten-month training course on conservation and restoration techniques for staff at various Angolan museums, the National Archives, and the Angolan Institute for the Preservation of Cultural Heritage.
The highlight of the ceremony was a final brush stroke applied by Angolan Vice President Bornito de Sousa Baltazar Diogo, a gesture that symbolically completed the conservation of the first group of endangered items from Luanda.
The collection of the Museu Nacional de Antropologia (MNA) in Luanda contains over 6,000 objects and is considered the world's largest collection of Angolan artifacts. The history of the collection is closely connected to the Angolan collection at the Ethnologisches Museum in Berlin, both of which originated in colonial contexts.
Alongside the conservation department and the training course, the project includes a residency at the Ethnologisches Museum in Berlin as well as an international specialist workshop in Luanda. With the support of the Stiftung Preussischer Kulturbesitz, the Goethe Institute is thus not only facilitating the first Angolan training course ever held in the field of conservation and restoration, but is also contributing to the preservation of highly vulnerable objects in Angola's ethnological collections.
Funding for the project is being provided by the Agentur für Internationale Museumskooperation of the German Foreign Ministry. The partners are the Ethnologisches Museum (Berlin) and the Museu Nacional de Antropologia (Luanda).
Links for Additional Information
To overview