Benin Bronzes: a further important step toward restitution and strengthening cultural cooperation
News from 10/14/2021
Memorandum of Understanding signed: return of Benin bronzes from German museums embedded in broad-based cooperation in the areas of museum practice, new museum construction, and archaeology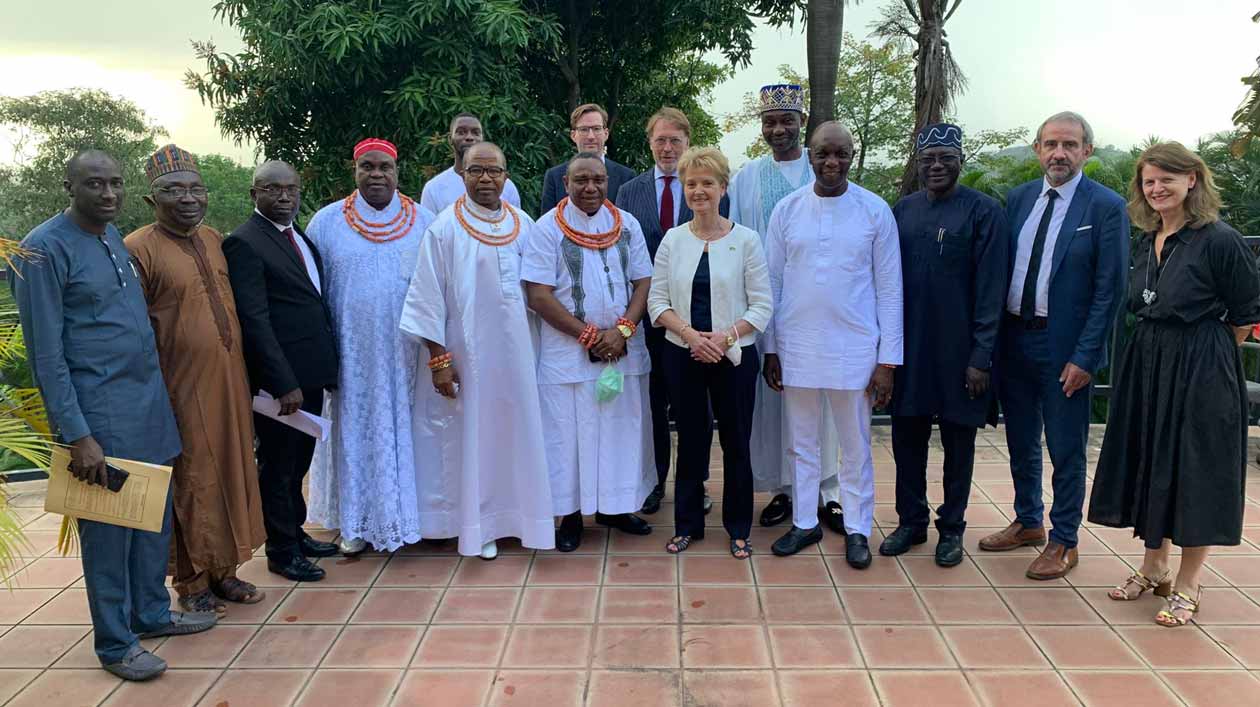 In addition to German museums returning objects from the historic Kingdom of Benin to Nigeria, collaboration between the two countries in the cultural sector is to be intensified in the future. Their return will therefore mark not the end of the connection, but the beginning of a new quality in cultural ties between Nigeria and Germany.
A Memorandum of Understanding to this effect was signed by the Director General of the Nigerian National Commission for Museums and Monuments (NCMM), Professor Abba Isa Tijani, and the head of the cultural affairs department at the Federal Foreign Office, Dr. Andreas Görgen, during the visit of a German delegation to Abuja on October 13, 2021. The German delegation included Professor Dr Barbara Plankensteiner, Director of the Museum am Rothenbaum - Kulturen und Künste der Welt in Hamburg (MARKK) and co-spokesperson of the Benin Dialogue Group, and Professor Dr Hermann Parzinger, President of the Stiftung Preussischer Kulturbesitz (Prussian Cultural Heritage Foundation). As the representatives of the German government at federal and state level, the two of them are tasked, together with the German Foreign Office, with leading negotiations on the return of Benin bronzes and intensifying cooperation as stipulated in the declaration on the Benin bronzes of April 29, 2021.
Hermann Parzinger stated: "I support the agreement in every particular and I am very pleased that as the result of a series of talks, we have now succeeded, at our third meeting in the last six months, in creating a sound basis for the return of Benin bronzes and for even closer cooperation between us. I am sure that this arrangement will be a pioneering model for dealing with art looted in the colonial past."
The next step in the restitution process concerns a framework agreement, which should be signed by the end of 2021. This provides the basis for the transfer of ownership, scheduled for the second quarter of 2022. It has also been agreed that German museums may continue to exhibit Benin bronzes in the future, a fact that demonstrates the special quality of this relationship. In addition, there will be joint work on exhibition projects with the aim of facilitating the circulation of cultural artefacts from both Nigeria and Germany.
Links for Additional Information
To overview