Rebirth of an Architectural Icon – Handover of the Keys to the Neue Nationalgalerie
News from 04/29/2021
The upper exhibition hall of the Neue Nationalgalerie at Berlin's Kulturforum has been visible in its former glory since December 2020. Today, the keys for the entire, fully refurbished building are being handed over to the Staatliche Museen zu Berlin and the Stiftung Preussischer Kulturbesitz.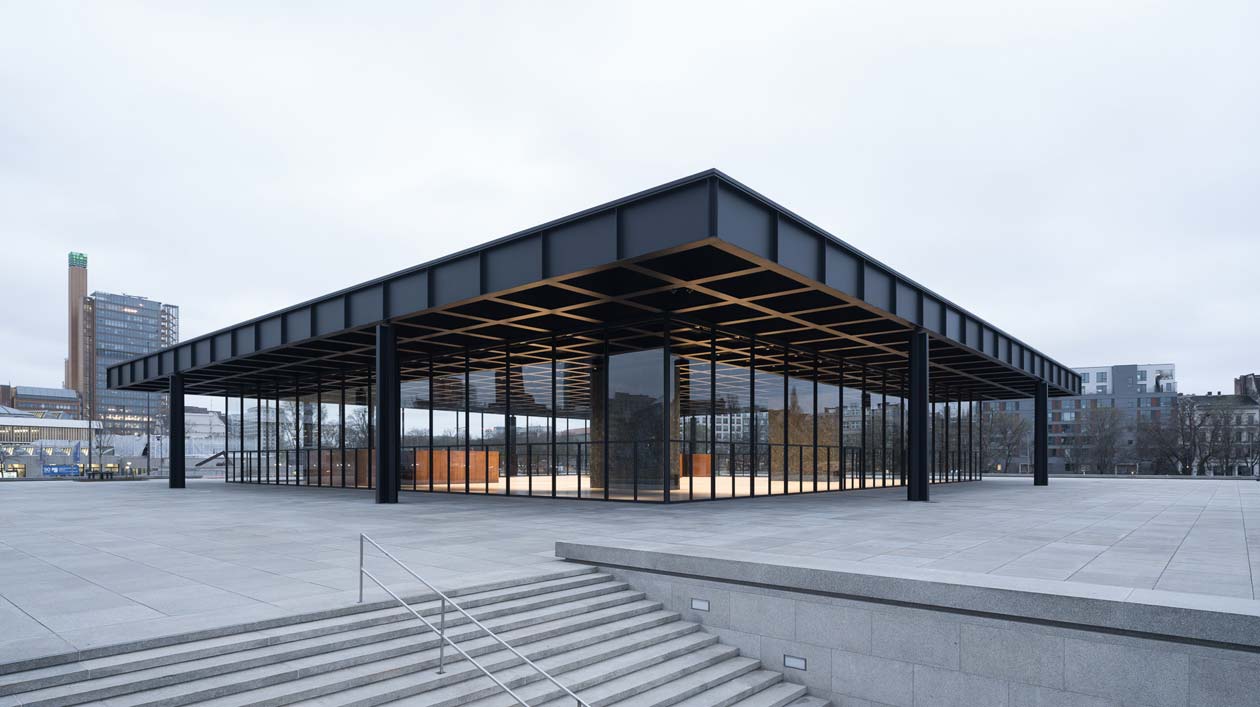 Owing to the pandemic, the keys are only being handed over digitally, without guests and members of the press. Taking part in the ceremony are Minister of State for Culture Monika Grütters, Secretary of State for Building Anne Katrin Bohle, President of the Stiftung Preussischer Kulturbesitz Hermann Parzinger, President of the Federal Office for Building and Regional Planning (BBR) Petra Wesseler, and Director-General of the Staatliche Museen zu Berlin Michael Eissenhauer. The architect, David Chipperfield, is present via video link. The event is presented by Liane von Pein, with musical interludes by members of the Karajan Academy of the Berlin Philharmonic, and can be watched on YouTube.
SPK President Hermann Parzinger is delighted: "As much Mies as possible – that was the objective that we set ourselves, and how wonderfully it has been achieved! The temple of art has regained its transparency and flowing space; the new glazing makes the urban surroundings more immediate. The aesthetics of the building's order can be experienced again. Its modern lightness and classic gravity harmonize once again in a fantastic way. The Neue Nationalgalerie is back, and it looks and feels just as Mies intended. By no means does it hide the signs of its age, yet its rejuvenated architecture makes it appear fresher than ever. This refurbishment sets standards for the Stiftung Preussischer Kulturbesitz (Prussian Cultural Heritage Foundation), the Staatliche Museen zu Berlin (National Museums in Berlin), and the Nationalgalerie (National Gallery). We are receiving the keys to a building that exhorts us to match its quality in how we use it. The success of this general refurbishment is due to excellent teamwork: by the museums on the one hand and by David Chipperfield Architects, BBR and the Landesdenkmalamt (Berlin Monument Authority) on the other. I would like to thank everyone involved, and above all Minister of State for Culture Monika Grütters and the Budget Committee of the Bundestag for their financial support."
Links for Additional Information
To overview