Kulturforum: start of construction work on the National Gallery's Museum of the 20th Century
News from 11/18/2020
Work on the Museum of the 20th Century at the Kulturforum is now starting on site. The building for the National Museums in Berlin is designed by the celebrated Swiss architects Herzog & de Meuron.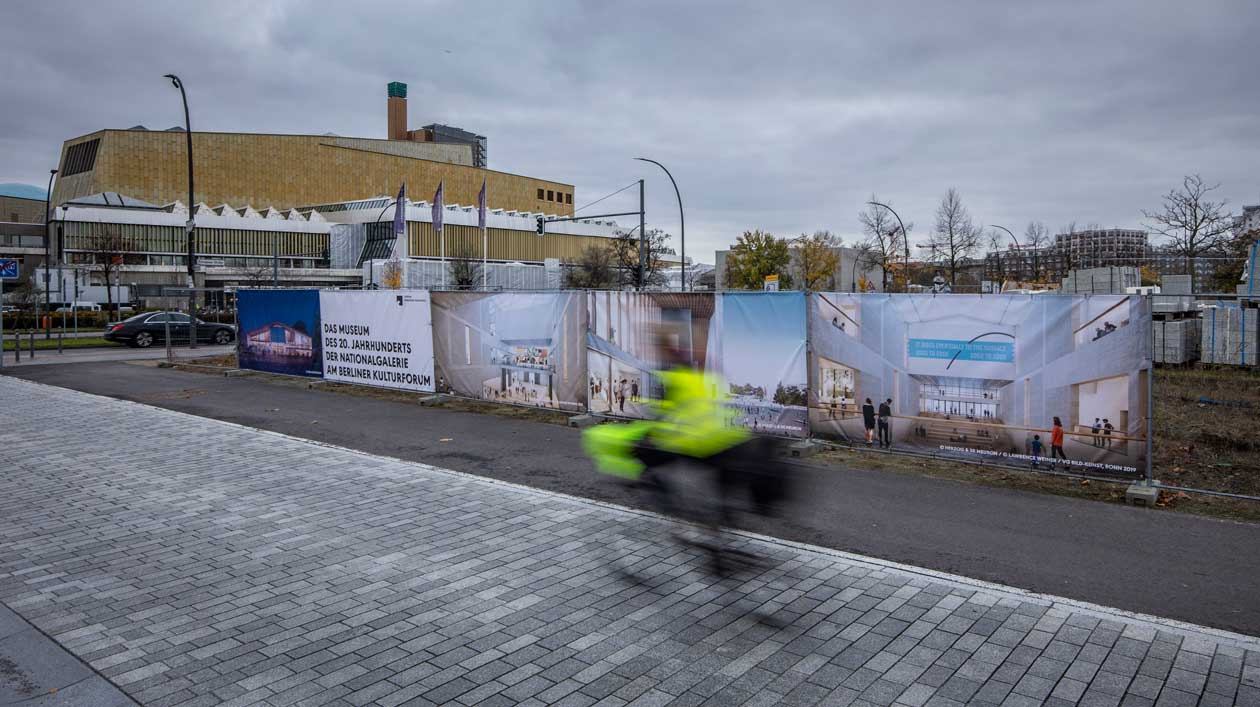 Text A number of measures are needed to prepare the area at the Kulturforum for construction work. The southbound lanes of Potsdamer Strasse will be temporarily relocated onto the central reservation. To replace the existing, separate cycle path, part of the road will be marked off as a cycle lane, while a covered walkway for pedestrians will be installed along the site fence. The pedestrian crossing with traffic lights in front of the Staatsbibliothek (State Library) will be moved around 50 meters toward Potsdamer Platz. In addition, the Kulturforum bus stop on the M48 and M85 lines (southward bound to Zehlendorf and Lichterfelde Süd respectively) will be taken out of service from January onward, owing to the construction work. Once the site preparations have been completed and the site cabins installed, the excavation of the building pit will begin.
The new building will stand on the previously undeveloped area of land between the Neue Nationalgalerie, designed by Ludwig Mies van der Rohe, and the Philharmonie, designed by Hans Scharoun. It will be used to exhibit twentieth-century art from the Nationalgalerie's own collection in dialogue with the Ulla and Heiner Pietzsch Collection and the Erich Marx Collection, supplemented with presentations of works from the Kunstbibliothek (Art Library) and the Kupferstichkabinett (Museum of Prints and Drawings) of the Staatliche Museen zu Berlin (National Museums in Berlin).
Links for Additional Information
To overview