Soil Tests Begin for Museum des 20. Jahrhunderts
News from 12/20/2017
Next planning step initiated – First soil tests for the building site at the Kulturforum.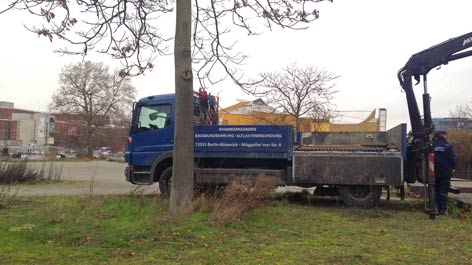 The first vehicles and machines could recently be seen on the Kulturforum building site, where the Museum des 20. Jahrhunderts (Museum of the 20th Century) will be built. The first visible building measure, soil tests, have started.
They are an indispensable requirement for the further planning and realization of the construction measures at the Kulturforum. They provide relevant information on the characteristics of the building site, so that the parties involved can recognize and minimize risks early and the project can be completed as successfully as possible.
Various technologies are used to test the site's geological soil composition, structure conditions, history, soil contamination, hydrological conditions, and groundwater presence in order to produce a geotechnical report. Among other reasons, the site needs to be searched for bombs because the area was hit hard during World War II. The first in a total of thirty test borings will be made in the second week of December 2017. In addition, a groundwater measuring point will be constructed. The dry borings will reach a depth of forty-two meters and the samples taken will be examined in a laboratory.
In November 2014, the German Bundestag approved funding for the new building in the budget of the Federal Government Commissioner of Culture and Media. In October 2016, the design submitted by the Swiss architecture firm Herzog & de Meuron was awarded first prize in a multi-stage competition. Since then, the project has been in the preparatory stage. Bundesbau Baden-Württemberg, a state-level office, is in charge of planning and realizing the entire construction project.
Links for Additional Information
To overview