Repurchase of a Kirchner etching after restitution
News from 08/16/2017
The SPK has returned nine works of art to the heirs of the Jewish businessman and collector Eugen Moritz Buchthal. It has repurchased an etching by E. L. Kirchner for the Kupferstichkabinett.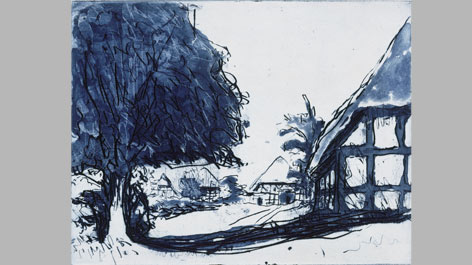 Lawyer Lothar Fremy, who represents the heirs, said: "The Stiftung Preussischer Kulturbesitz (Prussian Cultural Heritage Foundation) has thus set a further example of how a fair solution for such matters can be achieved within the framework of mutual and respectful cooperation. The Buchthal heirs would like to thank the Foundation very much for its responsible handling of an issue that in many cases remains unresolved, even today."
Eugen Moritz Buchthal (1878–1954) was an enthusiastic collector of contemporary art. He and his family were persecuted by the National Socialists because they were Jewish; they emigrated one by one to London between 1934 and 1938. In 1936, Buchthal delivered numerous graphic works from his collection to Galerie Nierendorf in Berlin. Some of them were bought by the Kupferstichkabinett. These have now been restituted.
The engraving Houses on Fehmarn with a Large Tree (1908) by Ernst Ludwig Kirchner has been repurchased by the SPK for the Kupferstichkabinett (Museum of Prints and Drawings) of the Staatliche Museen zu Berlin (National Museums in Berlin).
Links for Additional Information
To overview