Bereichsnavigation
Research Services
The Stiftung Preussischer Kulturbesitz provides scholars with information and hence with complex, interconnected services. The extent and quality of their holdings and expertise in the institutions provide outstanding infrastructure for research.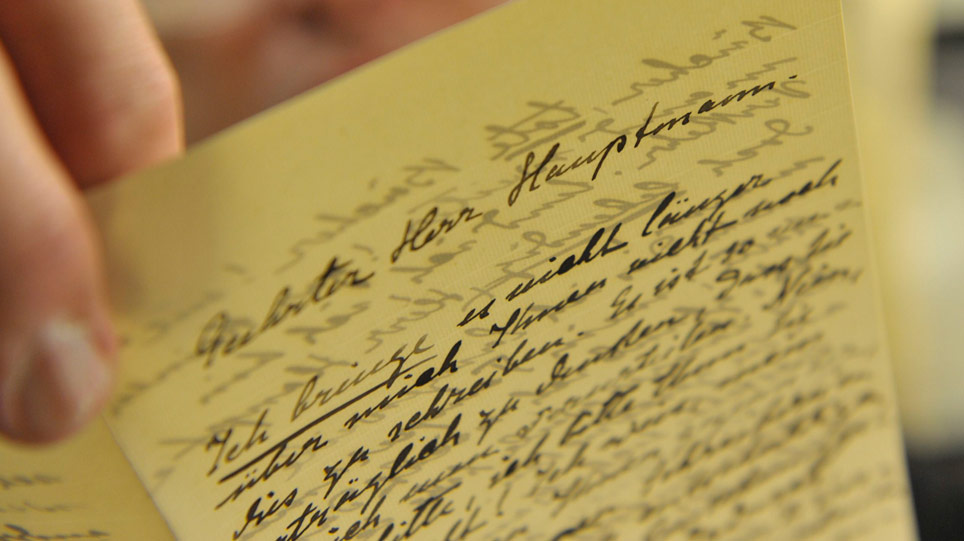 Services for Scholars Worldwide
The scholarly activities within the Foundation concentrate on the constant expansion and improvement of its research infrastructure. Providing complex services for scholars worldwide is thus often based on its own research and is inseparable from it.
The Staatsbibliothek zu Berlin (Berlin State Library) and the Geheimes Staatsarchiv Preussischer Kulturbesitz (Prussian Secret State Archives) focus their activities on creating research infrastructure. One meeting place for research in ancient studies is the Archäologisches Zentrum (Archaeological Center) of the Staatliche Museen zu Berlin (National Museums in Berlin). The Kunstbibliothek (Art Library) of the Staatliche Museen zu Berlin is an important library specializing in art history, with more than 400,000 volumes. Founded in 1867, it is one of the oldest institutions of its kind.
Making Collections Available to Scholars
Among the classic tasks of services for scholars are collecting objects and information, exploring their content, making them accessible, and disseminating information about them. The scholarly assessment of large, thematically related holdings, such as unpublished papers, is an important service. Often it is only such work that raises new questions in the first place and makes it possible to answer them.
The digitizing of the holdings and providing detailed information about the objects digitized are also important services to scholars. By doing so the Foundation creates site-independent access to various sources of knowledge. Linking databases and complex search functions can also help to make connections clear that would not be evident when dealing with originals. So-called virtual libraries specialized in certain collecting areas and virtual research communities are particularly important.
Expert Knowledge Creates Networks
The social research infrastructure at the Foundation is also of high quality. Numerous visiting scholars appreciate the informed exchange with the employees of the SPK institutions. They often have cross-disciplinary knowledge or specialized knowledge that is only available in the specific collections. The Foundation supports such exchange with its grant program.
The research services provided by the Foundation's employees ranges from teaching positions, lecturing activity, and offering expert opinions. Many of them teach at various universities and thus have close contacts to the academic field. Through conferences and other scholarly events, the Foundation creates its own platform for the exchange of knowledge.