Bereichsnavigation
English edition of the Humboldt Forum Magazine
In the Humboldt Forum Magazine, curators and exhibition designers introduce their concepts for the presentation of the collections of the Ethnological Museum and the Museum of Asian Art in the rebuilt Berlin Palace. The magazine also contains essays on the impact of colonialism on present day identities and on life within and between two cultures.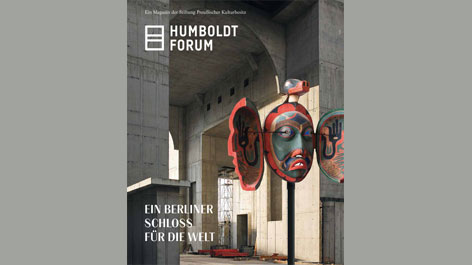 The Stiftung Preussischer Kulturbesitz will exhibit two of its splendid collections inside the Humboldt Forum – that of the Ethnologisches Museum (Ethnological Museum) and the Museum für Asiatische Kunst (Asian Art Museum), respectively. The Humboldt Forum Magazine introduces these collections and the way they will be presented within the reconstructed Berlin Palace by showing many objects originating from the Americas, Amazonia, Africa and Asia, as well as renderings and drafts of future displays. Furthermore, the magazine describes the transportation of fragile South Pacific ships to the Humboldt Forum, the challenges in exhibiting secret-sacred objects and explains the meaning of the Nulis' mask.
According to Hermann Parzinger, President of the Stiftung Preussischer Kulturbesitz, the Humboldt Forum Magazine shows "what is emerging in the heart of Berlin: a center of world culture inviting us to think about foreign aspects in everybody's familiar culture."
The Magazine's publication and translation has been supported by the Kuratorium Preussischer Kulturbesitz. It can be ordered directly from the Stiftung Preussischer Kulturbesitz (Prussian Cultural Heritage Foundation) or be downloaded here.
Humboldt Forum Magazine (Englisch version) (PDF, 6,3 MB, document not barrier-free)
Humboldt Forum Magezine (German version) (PDF, 4,6 MB, document not barrier-free)
Links for Additional Information
To overview