Bereichsnavigation
Issue 1/2015: The Obliteration of World Heritage
The new SPK magazine with reports from Syria and Iraq: Illegal excavations and trafficking threaten cultural heritage. This issue uncovers the workings of the looted antiquities business and asks what is expected of museums now.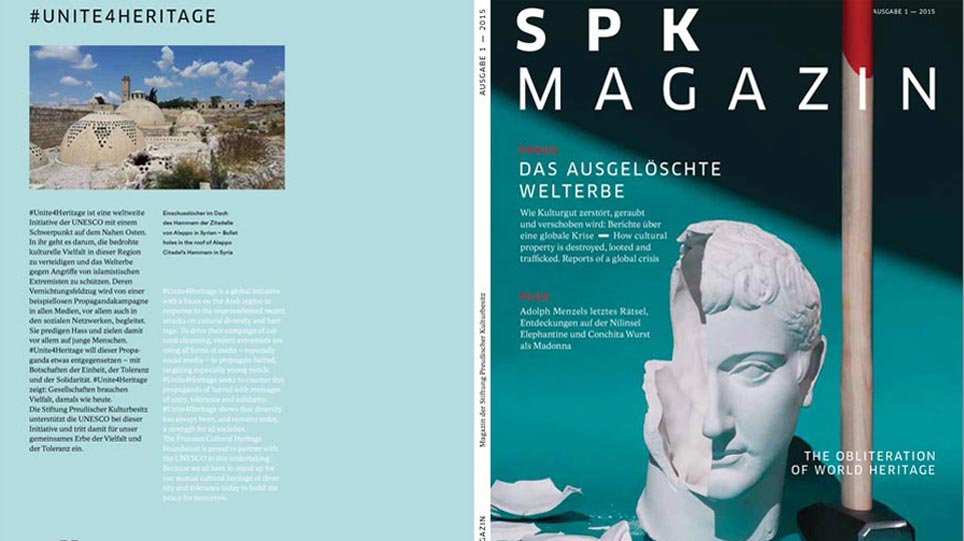 Destruction of Cultural Heritage — A Global Catastrophe
Mosul, Nimrud, Nineveh — places that have come to symbolize the destruction of cultural heritage. Terrorist violence against ancient sites is not, however, a problem in Iraq and Syria alone. Illegal excavations and trafficking are bringing about a global catastrophe. In December 2014, the SPK held an internationally acclaimed conference on this topic. Now the SPK Magazine is taking a further look at the dramatic situation.
Reports from Iraq and Syria portray the situation in endangered areas. The articles also make clear the importance of international cooperation in preserving the heritage of mankind.
Reports from Syria, Iraq and Germany
The head of the Syrian antiquities department, Maamoun Abdulkarim, writing exclusively for the SPK magazine, describes the struggle to save Palmyra, where mines have been laid by the "Islamic State" terrorist militia. ZDF journalist Alexander Bühler reports from the border region between Turkey and Syria and explains how the perfidious trade functions. Iraqi journalist Amir Musawy talks about what his country now expects from the West. In Germany too, treasure-hunters search illegally for buried artifacts. The SPK Magazine accompanied metal detectorists who want to find a way of pursuing their hobby legally.
Also in the new issue: Find out what the Foundation itself is doing to preserve and study the treasures in its collections, and to share them with the world.