A Great Friend of the Nationalgalerie
News from 10/24/2022
Remembrance ceremony at the Neue Nationalgalerie for Heiner Pietzsch, an eminent patron of the arts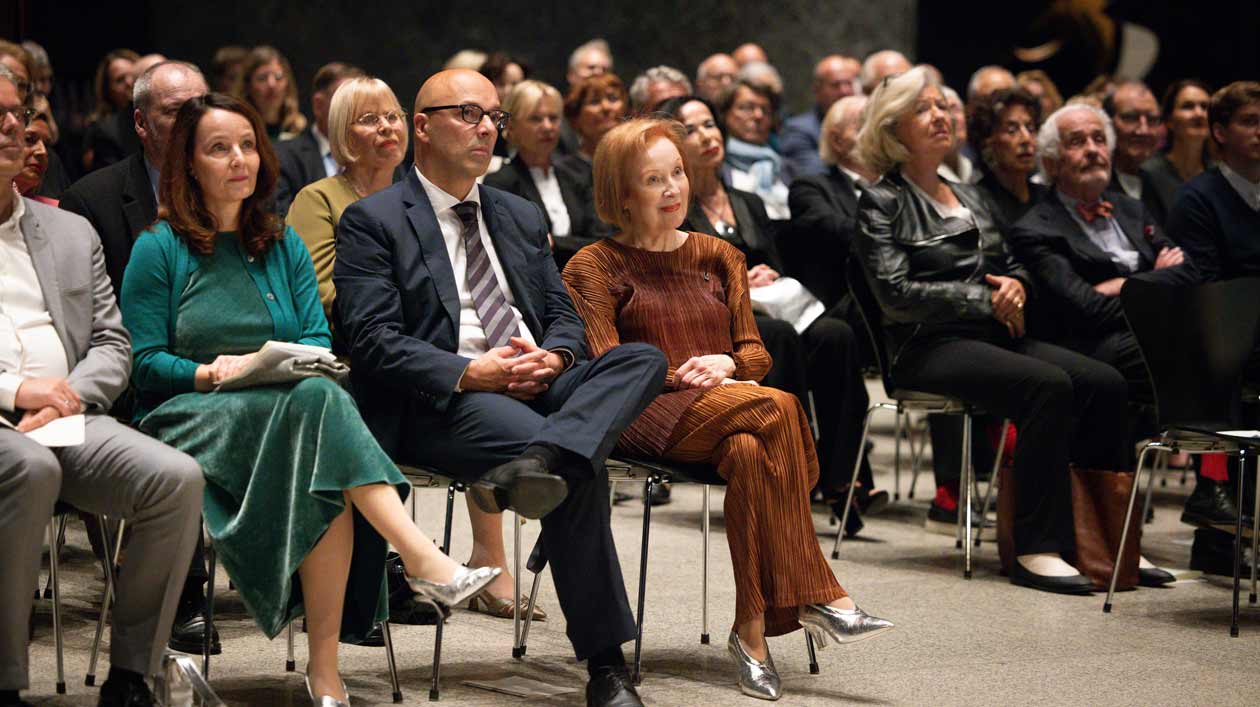 On October 17, the Berlin cultural scene bid farewell to the great arts patron Heiner Pietzsch in a moving ceremony of remembrance at the Neue Nationalgalerie. The event was hosted by Ulla Pietzsch and the association Freunde der Nationalgalerie (Friends of the National Gallery). Heiner Pietzsch died on September 7, 2021 at the age of 91. Approximately 170 guests attended the ceremony, including family members, friends, and associates, among them the former director of the Nationalgalerie, Udo Kittelmann, and the former chairman of the "Freunde," Peter Raue. The City of Berlin was represented by Deputy Mayor and Senator for Culture Klaus Lederer. Artistic interludes were provided by actress Leslie Malton and pianist Michael Cohen-Weissert.
SPK President Hermann Parzinger recalled the generous acts of patronage through which Heiner Pietzsch and his wife Ulla greatly enriched both the general public and the collections of the Staatliche Museen zu Berlin (National Museums in Berlin). Their outstanding art collection had always been a precious source of special exhibitions at the Nationalgalerie, he noted. With these works, the Nationalgalerie has now closed a grievous gap in its own collections. Heiner Pietzsch was associated with the Nationalgalerie for decades and he served for a number of years as treasurer on the board of the Friends of the National Gallery.
Moreover, the donation of the Pietzsch collection to the public sector played a key role in the political decision to build the Museum of the 20th Century, construction of which is currently underway at the Kulturforum. The new building will make it possible to show the full breadth and importance of the collection assembled by Ulla and Heiner Pietzsch.
The Pietzsch collection is one of Germany's outstanding private collections of Classical Modern art. At its heart are first-rate works of Surrealism from Paris and Abstract Expressionist works by the New York School, including works by Max Ernst, René Magritte, Joan Miró, Salvador Dalí, and Paul Delvaux for the one part and Jackson Pollock, Ad Reinhardt, Mark Rothko, Robert Motherwell, and Barnett Newman for the other, as well as Frida Kahlo and Diego Rivera.
The donation was made to the State of Berlin in 2010 and comprises approximately 150 paintings, drawings, and sculptures with an estimated value of 120 million euros. Berlin subsequently entrusted it to the Stiftung Preussischer Kulturbesitz (Prussian Cultural Heritage Foundation) as a permanent loan for the Nationalgalerie of the Staatliche Museen zu Berlin. The Stiftung Preussischer Kulturbesitz will ensure that parts of the collection are put on permanent display in the context of its collection dedicated to Classical Modernism.
Links for Addtitional Information
To overview