The Wreckage of Culture
News from 02/25/2022
SPK President Hermann Parzinger on long-standing cultural relations with Russia and the fatal consequences of the Ukraine war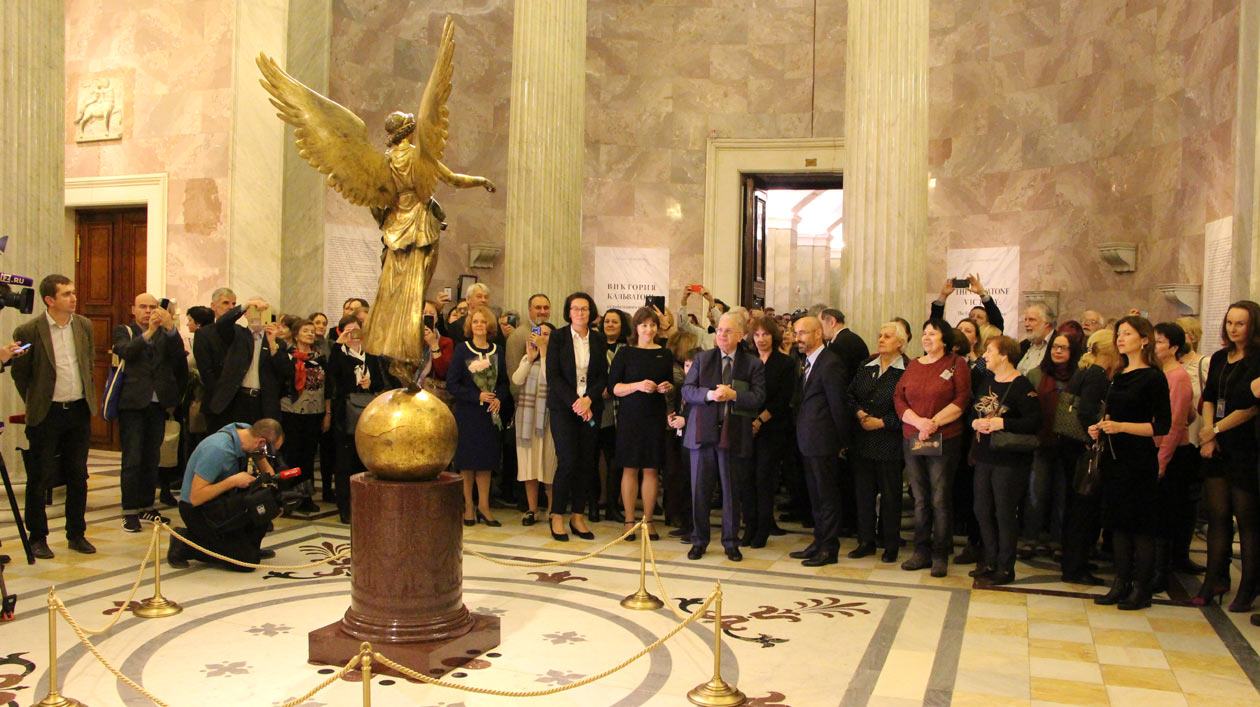 SPK President Hermann Parzinger wrote this text earlier this week. We aren't going to update it, even if events have overtaken it, because it deals with the possibilities of dialogue. Because it speaks of hope. Nevertheless, Russia has invaded Ukraine and thus Europe. This is an attack on democracy and the values of the free world. Culture and science have always been seen as resilient bridges in the difficult dialogue with Russia. If this dialogue, too, fails, what will become of cultural relations? This is what Hermann Parzinger, who knows Russia well, is writing about here.
The tensions created by the threat of a Russian invasion of Ukraine have been keeping the world in suspense for several weeks now – and they are increasing by the hour. Will there be another war in Europe, with tens of thousands of soldiers in opposing armies? Even during the Cold War, it seemed to be a given that nobody wanted something like this to happen ever again. We can learn from history – if we are only willing to do so: war has never brought a lasting solution to any conflict; it has only ever caused destruction and further violence.
Equally inconceivable is the thought that a war unleashed by Russia on Ukraine would destroy all the trust, cooperation, and friendly links that have developed over the past three decades across the former Iron Curtain, especially in the fields of culture and science. And I know what I am talking about: since 1994 I have taken part, as an archaeologist, in countless research projects in different regions of Russia. It is precisely by bringing different research traditions and stores of experience into close contact that we have achieved great successes, established regular communication between scholars and young scientists from Russia and Germany, and created a very lively, sustainable, and indispensable network. Scholarship always works internationally and transcends borders.
The field of cultural cooperation has also seen a huge amount of productive activity. With the Petersburg Dialogue and the German-Russian Museum Dialogue, we have managed to shape a common future, freely and openly. Keyword "looted art": of course, Russia acted contrary to established international law in 1998 when the Duma (the Russian parliament) passed an act declaring that, of the cultural assets taken from Germany to the Soviet Union by the Soviet trophy commissions at the end of World War II, any that were still in Russia were now Russian property, by way of what it called "compensatory restitution" for the destruction caused by German forces in wartime.
On this matter, the legal positions of the two countries are poles apart. Yet at the professional level, something has been achieved that the world of politics seldom manages: we have turned something that divides us into something that unites us. Together we trace the histories of the collections – and lost items – belonging to the Russian and German museums affected by World War II; we identify lost or missing cultural assets; we restore and examine them, and we communicate the results of our endeavors and the stories of these objects to hundreds of thousands of visitors by holding exhibitions.
It is often the case that finds originating from one and the same archaeological complex have been dispersed among various German and Russian museums, or it may be that the objects are located there and the associated archive documents here, or vice versa. War separated things that belonged together. The work of reuniting these things and making them accessible once again for the international research community, regardless of where they are being kept, has brought Russian and German museums so close together that now they can neither do without each other, nor would they want to. Despite immense and painful losses, we have succeeded in developing a common understanding of shared heritage and in letting each other participate in it.
For example, cultural assets that had long gone from Berlin's museums were shown in their full context for the first time in the jointly organized exhibition "The Bronze Age – Europe Without Borders", held in the Hermitage in St. Petersburg. Its opening in June 2013 was attended by the then German chancellor, Angela Merkel, and the Russian president, Vladimir Putin. In their speeches, both acknowledged the exhibition's exemplary character and remarked that politicians can learn from the trusting and productive way in which museum specialists work together, even on difficult issues. The Iron Age exhibition shown in St. Petersburg and Moscow last year, which focused on the history of Europe in the first millennium B.C., continued this joint success story – at least in Russia, because looted art cannot be exhibited in Germany.
The next logical step would be to find a way for cultural assets that were taken to Russia as a result of the war to be shown in German museums again, at least temporarily. This year we celebrate the 200th anniversary of the birth of Heinrich Schliemann. Why shouldn't it be possible to exhibit "Priam's Treasure", as it was dubbed, on the Museumsinsel in Berlin for a few weeks? Archaeologists think pragmatically. The German government would have to guarantee that the objects could go back to Russia afterwards, but this need not mean that it had abandoned its legal claim to them. It would be a bold step towards the greater circulation of cultural assets, and it would show that questions of ownership and property rights can be of secondary importance. Such an act would continue a process that Russian and German museums set in motion a long time ago. It would mark a turning point in cultural relations between the two countries and it doesn't seem out of reach, assuming there is good will.
But realpolitik marches to a different drum. Russian tanks are already rolling into the areas held by pro-Russian separatists. If they go further, the consequences for bilateral relations between Russia and the West would be devastating. In the field of cultural cooperation too, we would be left with mere wreckage. All that has been painstakingly achieved over decades would be lost.
And one more thing is clear: a Russian invasion of Ukraine would not only cost countless lives, but also lead to the wholesale destruction of cultural heritage. When fighting broke out in the eastern parts of Ukraine in 2014, pro-Russian separatists repeatedly fired rockets at the Donetsk regional museum, destroying 30% of the collection. The cities of Chernihiv, Sumy, and Kharkiv, all with major museums, lie only a few kilometers from the border and from the areas in which Russian forces are deployed; Kiev, Poltava, Dnipro, Kherson, and Odessa are not far away in this context. None of these places is really protected: neither their architectural heritage nor their museum collections. Is it not utterly unbearable to think that here an aggressor might destroy cultural heritage that managed to survive World War II?
The current state of the crisis cannot be the last word. In cultural terms, especially, there is no doubt that Russia, whether it likes it or not, and despite all its Eurasian connections, is an integral part of Europe. It should see itself as such and we should understand it as such. The path that leads to disaster must be avoided.
The author is the president of the Stiftung Preussischer Kulturbesitz (Prussian Cultural Heritage Foundation) and, jointly with the director of the Hermitage, Mikhail Piotrovsky, co-spokesman of the working group on culture within the Petersburg Dialogue.
Links for Additional Information
To overview