They Call Him "Mohammed Concrete"
News from 07/29/2016
Mohammed's home, Syria, lies in ruins, but he still believes in the future. To symbolize it, he has made a wing of concrete for the exhibition "daHEIM – glances into fugitive lives", now showing at the Museum Europäischer Kulturen.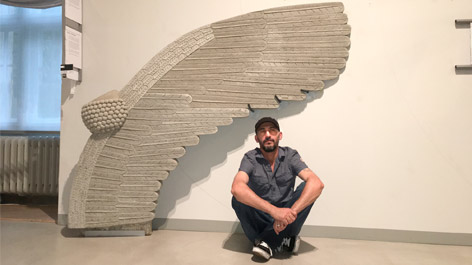 Mohammed Concrete's home lies in ruins. Rubble covers the ground on which cities once stood. Not even reinforced concrete could withstand the wanton destruction of the war. Despite this, Mohammed believes in the strength of concrete – because he can use it to make anything that he can imagine.
Mohammed Concrete's real name is Mohammed Alkhatib and he comes from Syria. In 2011, war began to tear his native country apart. The border between the territory controlled by Assad and the territory controlled by the Free Syrian Army ran between his house and the office of his building firm. He commuted back and forth, which made him suspicious in the eyes of the warring parties. He could never be sure that one side or the other would not suddenly arrest him. The economy in the crisis-hit region collapsed. Work became scarce – and so did food. Eventually, Mohammed realized that this war had come to stay. With his wife Iman and his children, he fled first from his home town, then from Syria. Now they are living in a refugee hostel on Staakener Strasse in the Spandau district of Berlin.
Mohammed discovered his affinity for concrete at an early age, when he was learning the basic skills of the building trade from his father. His detailed ornamental work and decor on walls and houses were especially in demand, and his reputation quickly spread beyond the local area. Fame was never important to him, he says. He always wanted his work to be as good as possible and to give people pleasure through its beauty. To this end, he would work for as long as it took to satisfy his own exacting standards, without any concern for fixed hourly rates and regular working hours.
Mohammed can apply a layer of concrete to almost any surface, using it as the basis for creating relief sculptures. He brings them to life with paint or covers them with stones. He has never treated them as mere made-to-order items, more like works of art that take shape in his hands. Nor has he ever needed preliminary sketches. He even claims that he cannot paint at all – the shapes exist in his mind and he transfers them directly to the concrete. Concrete and I, says Mohammed, are on the same wavelength. Back home, whenever he happened upon something ugly, he would simply cover it with a coat of concrete and transform it into something beautiful. He is proud of his creations: his cell phone contains countless photos of works that he created in Syria. He often looks at them these days, while he waits to be allowed to do something here too.
As part of the KUNSTASYL project, Mohammad has recreated the wing of a lamassu for the exhibition daHEIM – glances into fugitive lives in the Museum Europäischer Kulturen (Museum of European Cultures). He had encountered the Babylonian protective deity, which he knew from his home country, once again at the Pergamon Museum. His own piece is accurate in every detail, with each feather delineated individually. It is a wing made of concrete – because nobody who flees from Syria can simply spread his wings and fly into a secure future. Those who flee war and destruction must make their way laboriously on foot and cannot even be sure of finding a new home. Mohammed considers himself fortunate to have got here. Others still wish that they had wings, so as to fly away from the war and be free.
He himself has found this possibility of freedom in Germany, he says. Nevertheless, he wants to go back to Syria after the war. If he were not to go back, if not even a few people were to return, who would rebuild the country then? Mohammed Alkhatib is someone who can still make flowers grow, even from concrete. Syria will need people like him.
By Kristina Heizmann
Be sure not to miss it: daHEIM – glances into fugitive lives is on show until July 2, 2017, in the Museum Europäischer Kulturen.
To overview