Herzog & de Meuron Design the Museum of the 20th Century at the Kulturforum
News from 10/27/2016
Design competition is completed – the winning design "is the expression of a unique approach - restrained, yet with a strong presence" says Arno Lederer, chairman of the jury.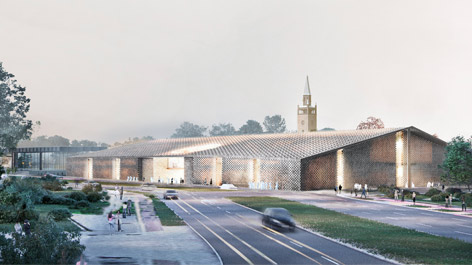 On October 27, 2016, the winners of the design competition were announced: Herzog & de Meuron architects from Basel, in partnership with Vogt landscape architects from Zurich, submitted the winning design for the new building for the Neue Nationalgalerie - Museum des 20. Jahrhunderts at the Kulturforum in Berlin. Their entry was selected by a jury chaired by Arno Lederer.
In their commentary, Herzog & de Meuron write of a brick HOUSE that they want to build for the art of the twentieth century: "Is it a warehouse? Or a barn? Or maybe a railway station concourse? Isn't it more of a temple with exactly the same gable forms as those on the Alte Nationalgalerie designed by August Stüler? Indeed, it is a place of storage like a warehouse, a place of supplies and nutriment like a working farm, and a place of encounter and connection like a station concourse. "And - like a temple - it is also a place of silence and reflection, of the perception of art, of the perception of oneself."
The architects attach great importance to integrating their design into a complete urban setting at the Kulturforum: "It currently lacks a connection between the different presences that would give its open spaces a sense of place and incorporate the lost-looking buildings of the Neue Nationalgalerie, the Philharmonie, the Kunstgewerbemuseum (Museum of Decorative Arts), the Kupferstichkabinett (Museum of Prints and Drawings), and the Gemäldegalerie (Old Master Paintings Gallery) in a diverse urban entity as important and equal players. We see connecting and networking as one of the main tasks for our project for a Museum of the 20th Century." Herzog & de Meuron plan to create an east-west axis, which leads up to the Piazzetta and makes their new building appear like a "gate," and a "north-south boulevard," which runs under Sigismundstrasse from the Philharmonie to the Neue Nationalgalerie.
Their proposed site layout is also characterized by two intersecting internal streets, which provide access to the museum spaces located in the four quadrants. The generous gable roof and the high central boulevard allow light to enter the building. The "crossroads" is ideal for showing large works of art, while above the central axes there are four exhibition rooms, which extend right up to the roof. As the architects explain: "The gable end facing the Philharmonie offers direct access to the media room. This allows events to be held there outside the regular opening hours. (…) The quadrants can be reached individually, directly from the boulevards. At the same time, the exhibition spaces are connected internally, so that alternatively they can all be visited on a single circuit." The northeastern quadrant, where the protected plane tree stands, will be graced by a café and a restaurant.
Links for additional information
To overview