Spectacular Exhibition in Fall 2018 to Reveal Europe's Roots
News from 08/10/2017
The continent from below: in 2018, the Museum für Vor- und Frühgeschichte and the Verband der Landesarchäologen will be holding an exhibition at Martin-Gropius-Bau titled "Bewegte Zeiten. Archäologie in Deutschland."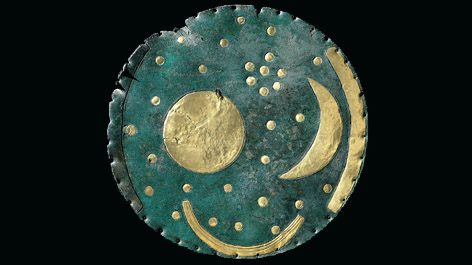 Berlin is getting ready for a spectacular new exhibition on archaeology in Germany. A lot of planning has gone into the multimillion-euro project, and it will be the first large-scale exhibition on the subject for fifteen years. Scheduled to open in the fall of 2018, it will be held in 1,600 square meters of exhibition space at Martin-Gropius-Bau, where visitors will be able to see over 1,000 outstanding finds from all sixteen Länder. The Museum für Vor- und Frühgeschichte (Museum of Prehistory and Early History) and its director Matthias Wemhoff will be in charge of the exhibition, titled Bewegte Zeiten. Archäologie in Deutschland (Turbulent times. Archaeology in Germany). Mr. Wemhoff's primary goal, particularly in view of the fact that the exhibition will be held in the European Year of Cultural Heritage (EYCH for short), is to show what once united the nervous continent: diversity and cooperation, exchange and movement, trade and trade routes, innovation and mobility – and, of course, conflicts too. By showing spectacular new archaeological finds and shedding fresh light on old ones, the exhibition aims to demonstrate how the foundations of present-day Europe were laid in the prehistoric era and a unique network of cultural interaction emerged.
In a first for an exhibition of this nature, objects will be organized thematically and not chronologically. The Martin-Gropius-Bau atrium, for example, will remind visitors of Cologne's origins as a Roman port city with a wonderfully preserved 3.5-meter-high and 12-meter-long sheet pile wall, made of massive oak stakes excavated in the course of construction on Cologne's underground metro system. The wall was part of a Roman gatehouse that looked out onto the Rhine River. It sat atop Cologne's harbor gate, which can now be dated for the first time with certainty to the late 1st century AD. The approximately two million additional small finds discovered in the harbor and city wall show that the ancient city of Cologne was a prime example of mobility and exchange across the entire Roman Empire. Just how greatly the movement of people within Europe has shaped the continent is shown by pieces of road and pavement from various times and various places, as well as by the wooden remains of a pile bridge in Kirchhain-Niederwald (Hesse), which in Celtic times straddled a 26-meter-long area of swampland.
There is also evidence for the issue of migration in the Neolithic. The first wave of migrants from southeastern Europe brought with them an agricultural, sedentary lifestyle, which, judging by the large number of timber wells and other finds recently recovered from Linear Pottery settlements in the brown coal fields of northern Saxony and North Rhine-Westphalia, established itself more fully and much faster in central Europe than previously thought. These finds also give us new insight into expansive early Neolithic land-clearing practices (for farming and agriculture). But there is also evidence of early conflicts on the continent. The latest research indicates that the oldest battle on German soil was fought in the Bronze Age in the valley of a small river called the Tollense in Mecklenburg. Using strontium and oxygen isotope signatures, scientists have been able to establish the origins of the fighters from southern and northern Germany. We now know that two armies stood and faced each other here, fighting with a professionalism and structure that is otherwise only recorded for southeastern Europe and in the Iliad.
Until September 2018, though, we can only wait in happy anticipation of all these spectacular finds. The exhibition opens then and can be seen in Martin-Gropius-Bau until January 2019.
Links for Additional Information
To overview