Something special for you: the highlights of 2021
News from 01/22/2021
Our doors may have been closed for many weeks, but behind them our people have been busy. They have used that time to prepare a whole year full of special events, historical highlights, and sensational exhibitions.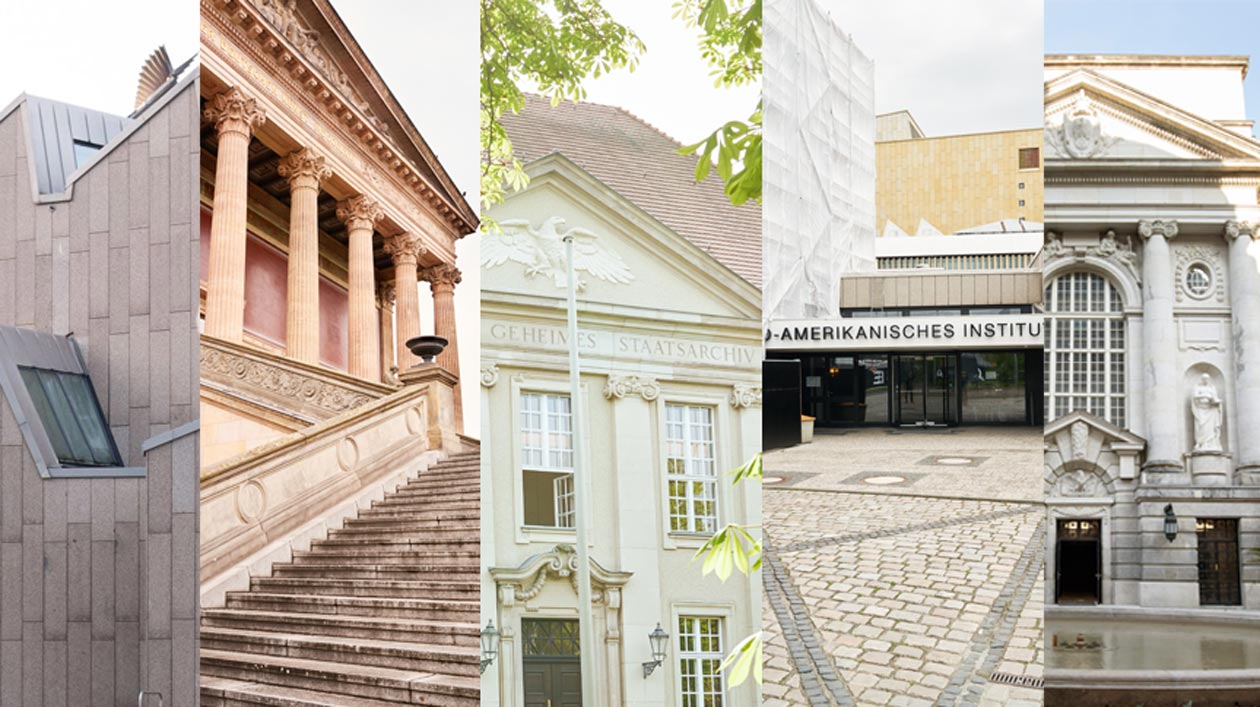 Soon, it will once again be possible to enjoy a real-life visit to the facilities and collections of the Stiftung Preussischer Kulturbesitz (Prussian Cultural Heritage Foundation). In the meantime, we've been getting everything ready, enhanced with a wide variety of online features and services. They've helped us to open up exciting and often novel approaches to our cultural cosmos, which boasts treasures from every era of human history.
But to get that feeling of rediscovering the world, you need to do it properly, with all of your senses: that's why we long for the day when we can open our doors for you again and welcome you inside all of our facilities, all over Berlin. In times of uncertainty like these, the repositories of human knowledge and art have always had special significance as public places and resources, perhaps more relevant in today's climate than ever before.
Whatever the way we meet next, be it virtually or in person, we can hardly wait – there's so much for you to see and do: a whole year packed with historical events, architectural icons, and sensational exhibitions!
By Dominik Twillemeier.
Staatliche Museen zu Berlin (National Museums in Berlin)
In addition to major exhibitions on themes ranging from Beuys to Picasso and from the late Gothic to the art of Iran, the coming year will be dominated by two reopenings. In the summer of 2021, after comprehensive refurbishment work lasting six years, the Neue Nationalgalerie will reopen its doors – with a solo exhibition of work by Alexander Calder and a presentation of highlights from our own collection, so that our visitors can finally enjoy their favorite treasures of the twentieth century once again. Toward the end of the summer, the Ethnologisches Museum (Ethnological Museum) and the Museum für Asiatische Kunst (Asian Art Museum) will individually open the presentations of treasures from their respective collections in the Humboldt Forum. The universal character of the fifteen collections of the Berlin State Museums will thus finally be visible after many years of preparation.
Staatsbibliothek zu Berlin (Berlin State Library)
In 2021, Berlin and the broader public get one of the most important libraries in the world back, in the form of the building on Unter den Linden. As soon as the pandemic situation allows, the completely refurbished main building will again be accessible to our users.

We are already looking forward to offering regular service again at last – at both addresses: Potsdamer Strasse and the modernized Unter den Linden building. Life will return to the general reading rooms and special reading rooms. And of course, we look forward to connecting you with literature again, be it books, magazines or newspapers, music manuscripts or letters, maps or globes… the list is endless. We can't wait to see you here again!
Staatliches Institut für Musikforschung (State Institute for Music Research) with the Musikinstrumenten-Museum (Museum of Musical Instruments)
On May 7, we're pulling out all the stops for a new temporary exhibition: Sound. Art. Construction. It is taking place as part of the "Year of the Organ 2021" organized by the regional music councils of Berlin and Brandenburg. It will offer an impressive array of more than forty different organs from over four hundred years. Adding an aural dimension to the visual spectacle are concerts by well-known organists and a diverse educational program of guided tours, workshops, and regular short concerts on the Mighty Wurlitzer, as well as themed events in the SIM Science series.
Ibero-Amerikanisches Institut (Ibero-American Institute)
The Ibero-Amerikanisches Institut is co-organizing two major virtual conferences for 2021. From March 10 to 25, international curators, scientists, and artists taking part in the project "Rethinking Conceptualism: Avant-Garde, Activism and Politics in Latin American Art (1960s-1980s)" meet online to discuss art practices in Latin America from the 1960s to the 1980s, outside the canon of conceptual art in Europe and the United States.
Between June 23 and July 2, the annual meeting of the Arbeitsgemeinschaft Deutsche Lateinamerikaforschung (ADLAF) will be held under the title "Knowledge, Power, and Digital Transformation." Taking in a variety of perspectives, its focus this year lies on examining knowledge as a resource – one of the most explosive and most discussed topics of our time.
Geheimes Staatsarchiv Preußischer Kulturbesitz (Secret State Archives Prussian Cultural Heritage)
To mark the occasion of the founding of the German Empire 150 years ago, the Geheime Staatsarchiv is presenting unique authentic material from its collections. Eight display cases offer visitors surprising insights into social developments and conflicts in Prussia after 1871. In addition, three new publications will appear in the series issued by the Geheimes Staatsarchiv: a source edition on the early days of Sino-Prussian German relations; a work on the coronation festivals and awards ceremonies of the Prussian monarchy (1810–1914), and a monograph on Elector Joachim Friedrich of Brandenburg (ruled 1598–1608).
To overview