The Simons – A Journey of Discovery
News from 02/23/2016
One of the Foundation's greatest patrons was James Simon. His great-granddaughter, an award-winning American filmmaker, wants to learn more, and to tell her family's forgotten history in a documentary.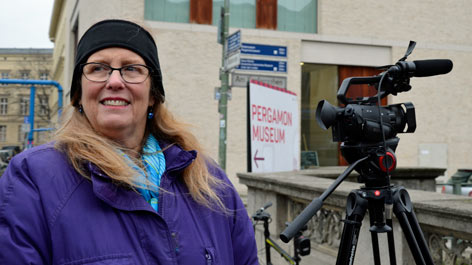 Chris Simon is a little surprised. Almost everyone in Berlin seems to know more about her great-grandfather than she does. The name of James Simon, a great friend and benefactor of the Staatliche Museen zu Berlin (National Museums in Berlin) is known well beyond the Museum Island. A businessman who made his millions in the cotton trade, he collected art with a passion that was matched by the generosity with which he donated it to museums. One of those donations was the world-famous bust of Nefertiti. His philanthropic contributions to Berlin, while not widely known, were substantial and they earned him a place in the city's history – that is, until a year after his death, when the National Socialists assumed power and tried to obliterate every reminder of the man.
As his great-granddaughter learned only relatively late, James Simon was Jewish. "When I was 18 years old, my grandmother Kitty gave my father a text about James Simon. It was in English. My mother read it, too, and the first thing she saw was 'Jewish financier.' She said 'What? You forgot to tell me something, Peter!'" recalls the 64-year-old American filmmaker, more than forty years later.
Chris Simon's father, Peter, was the son of Heinrich Simon, who was the only son of James. Peter, born in 1915, went to the United States for the first time in 1933, in order to study under Albert Einstein. He fell seriously ill, however, and had to return to Germany in 1937. Here, the Nazi's regime of terror was becoming ever more firmly entrenched, as Peter's parents experienced first-hand. He tried without success to convince them to flee, and returned alone to the United States. In 1939, Heinrich and Kitty Simon left their home country. It was not a moment too late, Kitty later told Chris: as the Gestapo were entering their house through the front door, they fled through the back, and were able to make it to Switzerland in a plane. They had to leave all their possessions behind. Heinrich died in 1946 and Kitty moved to the U.S. to be with her son. Peter met his wife, the daughter of a poor farming family, shortly after the war. He started a family, and never again spoke about his ancestors.
Chris has two explanations for his silence on the subject. She knew that he had lost part of his memory in the course of a serious illness, so perhaps he simply couldn't remember. The more likely explanation is that he just didn't want to. This was not unusual among emigrants of the time. Not being an observant Jew or even a particularly religious man, Peter felt that he had been persecuted for a faith that was not his. Remembering was probably too painful for him, explains Chris.
And so it came to be that Chris discovered her family history for herself, piece by piece. One of those pieces was revealed during her first visit to Berlin in 1989, when she took a tour of the Ägyptisches Museum (Egyptian Museum) with former director Dietrich Wildung. Another time, she and her sister Pam learned from Olaf Matthes, an expert on James Simon, that there were other descendants of James Simon – relatives of theirs – in the U.S. In 1998, Matthes arranged a meeting with their cousin Amos Yahil, a professor of astronomy in New York. A private detective enters the story, too: in 2008 he found out that Chris and her cousin Tim Simon, who had been unknown to her until that time, lived just twenty miles apart. Tim, who Chris says even looks a bit like the great James, had been planning an exhibition on James Simon in San Franciso that year. He had learned of his cousin's existence through Dietrich Wildung and had had her traced. Much still remains unclear to her, however.
Since the Second World War, this unique man, whose contributions to Berlin's cultural landscape are manifold, has rarely been commemorated beyond the Staatliche Museen zu Berlin. Only about fifteen years ago were the first commemorative plaques put up and a park and swimming pool named after him. That is all the more reason that the new entrance building on Museum Island should bear his name. The James-Simon-Galerie will serve as a point of welcome for visitors and as a portal to the museums. The topping out ceremony will take place on April 13, 2016. Chris Simon has returned to the United States to seek funding for a film documenting her journey of discovery. If everything works out, it could be completed in the same year that the James-Simon-Galerie opens its doors to the public.
Links for Additional Information
To overview