Bereichsnavigation
What Can You Support?
In many areas of the Foundation's work, financial support is indispensable. They include conservation and digitization of our holdings, educational programs, and acquisitions.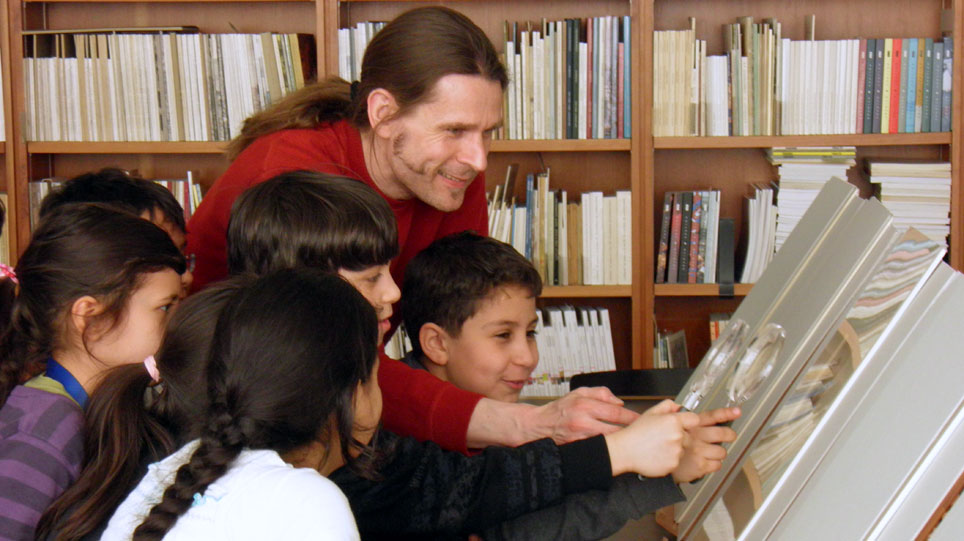 Cultural Education
Each of the museums in the Foundation is particularly concerned with finding exciting ways to present its diverse collections to young children and teenagers and to offer them a variety of ways to access our cultural heritage. For young people of all ages there are special tours and workshops. Many other events encourage them to discover and participate. Among the special offers are the Kinderakademie (Children's Academy) and cooperative projects with various primary schools in Berlin.
We are constantly developing our educational programs and launching innovative formats. Examples include offerings for the disabled and intercultural programs. We are trying to address as many different target audiences as possible and get them enthusiastic about the rich and diverse cultural heritage in our collections.
Digitization
The holdings in the museums, libraries and archives of the Stiftung Preussischer Kulturbesitz (Prussian Cultural Heritage Foundation) are gradually being digitized. Fragile original works can be better protected once digital copies have been produced. At the same time, the unique holdings of the Foundation can be made available to more people and without regard to opening hours or location. All five institutions are committed to extensive digitization projects.
Conservation
All the Foundation's institutions are continuously doing conservation work on their holdings. This protects valuable cultural assets from decay, preserves them for future generations and prepares them for an exhibition or research. This applies to paintings and other visual artworks as well as archaeological finds, historical musical instruments, books, manuscripts, and valuable archival materials. Some of the written cultural assets in the Foundation's libraries and archives were printed on paper containing acid and are therefore especially subject to decay. Elaborate procedures to remove the acid can save these works.
Acquisitions
The museums, libraries and archives of the Stiftung Preussischer Kulturbesitz are continually striving to complete and expand their holdings. They acquire contemporary art and current scholarly literature as well as works from the past, historical documents and the archives of artists or institutions. Rare and especially valuable objects can often be acquired by the Foundation only with financial support from partners. This is the case, for example, with outstanding works of art, valuable books, and the papers of important scholars and artists.
Exhibitions
Large special exhibitions at the Staatliche Museen zu Berlin (National Museums in Berlin) as we all know them are only possible with outside support. Collaboration with other supporters and partners from the business world makes it possible to have educational programs for specific groups and to reach a wider audience through marketing and communication.
Links for Additional Information
Support Cultural Education for Children and Teenagers
Donate for the Restoration of Genealogical Tables of the Order of Saint-John in Prussia
Patronage for Books and Prints