As Much Humboldt as Possible
20.06.2019As Much Humboldt as Possible
Ever since the 18th century, Alexander the Great's last name has been Humboldt. In 2014, the Staatsbibliothek zu Berlin (Berlin State Library) acquired the American travel diaries of the tireless explorer – his detailed, artistic testimonies to an insatiable thirst for knowledge and discovery are the basis for the recently released graphic novel Die Abenteuer des Alexander von Humboldt. The text was written by Andrea Wulf, an expert on Humboldt, and the illustrations are by Lillian Melcher, an American artist. In an interview Lillian Melcher described Humboldt's artistic talent, talked about the influence of folk art and why illustrating the book turned her into a Humboldt fan.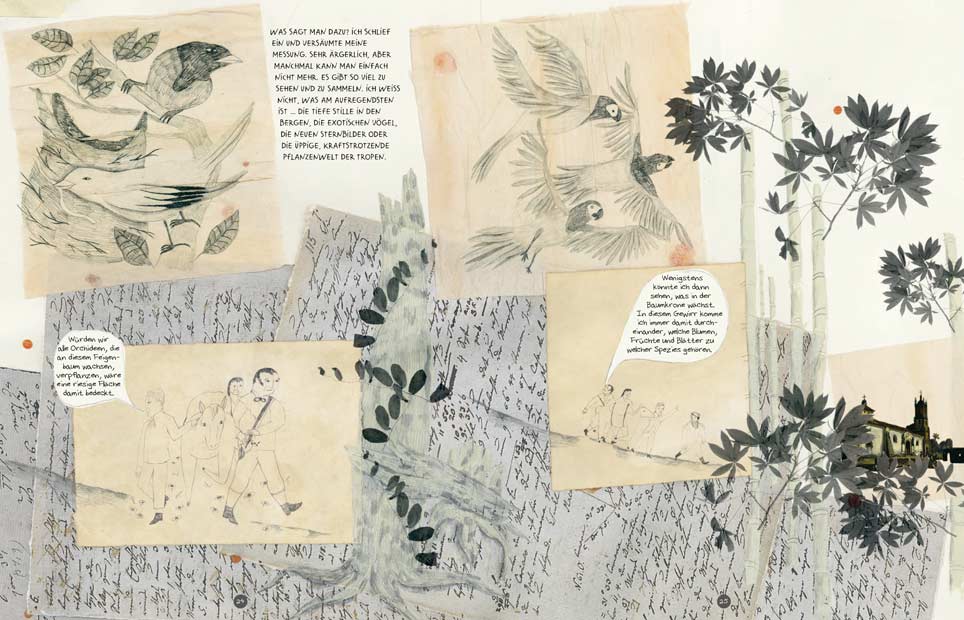 Image and text are interwoven. How did the collaboration with Andrea Wulf look like?
Collaborating with Andrea was easy because we speak a similar language. Visually we have very similar sensibilities. We are also the type of people who insist on having things just right. We both prioritized getting every last detail as close as we could to the way Humboldt would have experienced it. When you share a common goal being dictated by a powerful outside force such as Humboldt's diaries, I think it is easier to tackle a massive project like this one.
How did you meet Andrea? Why did she choose to work with you on the book?
Andrea had originally asked Lauren Redniss, a great non-fiction illustrator and my former professor, to do the job. Lauren was already in the throws of her next book but she asked me if I would be interested in getting in touch with Andrea. I had just finished a research-heavy thesis project for my undergraduate degree under Lauren's supervision so she knew that I had the ability to take on something that required a grasp on history and the ability to sift through lots of primary sources. I was 23 and about 5 months out of school, so of course, Andrea was hesitant. She hired a number of other illustrators to do a sample chapter. Then around Christmas, I learned I had the job!. When we finally met in person we immediately clicked. Within the first five minutes, we were already spurting ideas at each other. It really was a match just waiting to happen.
Who chose the pages from the original manuscripts? Andrea or you?
Every page began with a script written by Andrea based off of the pages of Humboldt's diaries. She would send me a page with a description of what was happening on the page, all of the body text, the dialogue, and any corresponding reference or collage materials. This included the pages of the manuscripts she used to write the chapter. As often as I could I tried to draw exactly what was on the page in Humboldt's diary and collage it on top of the exact page that story was pulled from. Andrea chose the pages we would use. We tried to include as much of Humboldt's drawings as possible. Or the human moments like the page where his servant falls through the snowbank. There is so much character in the diaries. The amount Humboldt writes about an event or the amount he excludes brings out the emotional side of the journey. As the illustrator on this project, I really took it upon myself to become as close as possible to the character of Humboldt so that I could depict the little mundane moments and the extent of his personality. These aspects have not been brought to light this way before and are difficult to fully express with words alone. It required both me and Andrea to read between the lines, something that is so much easier when you see the actual page in front of you.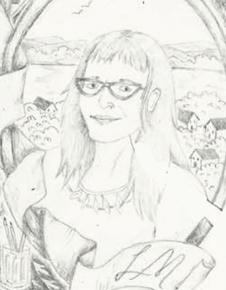 Lillian Melcher
Illustrator Lillian Melcher lives and works in Boston. She received her degree in illustration from Parsons School of Design in 2016. The Adventures of Alexander von Humboldt, written by Andrea Wulf,is her first book.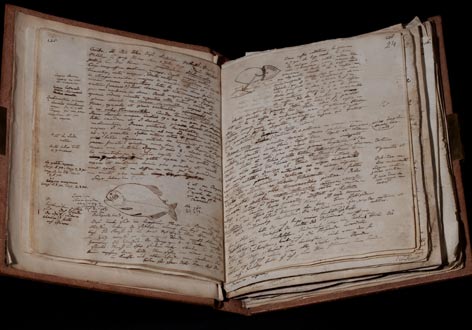 In what way did Humboldt's diaries inspire you?
Not only were the diaries informing the writing they were also the guiding light for all of the art in the book. I tried to use materials like those Humboldt used to draw and write in his journals so that the drawings seemed cohesive with the original diary pages. I adopted a lot of Humboldt's textural shorthand. When he draws the textures of different types of earth or indicates elevation in a map he uses unique marks that, when used by me, further integrate my work with his. All in all, I learned a lot from Humboldt's own drawing practice and the design choices he made in his published works. He was an amazing artist and had a remarkable and particular design sensibility. By looking at his collected works it was as if he was telling me what to do. In this way, Humboldt became our third collaborator.
Did you know about Alexander von Humboldt before?
Before this project, I did not know who Humboldt was. I think this was one of the many factors that fueled my fire during this project. I want Humboldt to be resurrected in the United States because more than ever we need to be thinking about his ideas on a large scale. Not only was he the first to connect the dots and collect the data that inform our understanding of climate change today, but he also wanted to make science accessible and popular through artful writing and visual thinking. We want to get people excited about the poetry of nature.
Have you been to Germany or any other places Humboldt lived?
I have never been to Germany! It has always been at the top of my list of places I have wanted to go, especially now. I took a trip to Paris last summer and I was able to visit the apartment Humboldt stayed in after 1804 when he returned to Europe. Whoever lives there now has a small stuffed parrot in the window. It is very sweet, but I would love to visit the diaries and see his taxidermy and other artifacts from the trip that are in Germany. I got to see two small pages from the diaries at Brown University. They were small river drawings. They had all his signature topographical markings and his handwriting and they were so delicate! I don't think the librarian noticed but I was tearing up. It is so emotional for me to actually see these pages that have impacted so many peoples journeys, including my own, in such a profound way.
Your illustrations have their own style. They depict the world without being naturalistic. How did you come to this and what makes a good illustration in your eyes?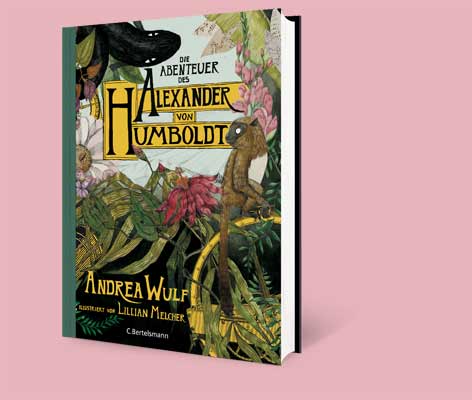 My illustration style has come out of my many years being surrounded by folk art. At a very young age, my Mother and my Grandmother started teaching me art history and encouraging me to create. This was mostly a product of my mother, an artist herself, juggling her career as a photographer and being a new mother. On the weekends if we were not in her photography studio or dark room we were often at the museum. I was heavily influenced by the collections at The Museum of Fine Arts in Boston. They do a great job showing the history of the artists who painted Boston's middle and lower class. These artists were often minorities, women and almost always self-taught. Their desire to make art despite the elite gatekeeping of galleries of the time shows in their work. It is passionate and goes against the rules while still emulating the popular styles of the time. I have always been attracted to art like this and I think it leads me to appreciate the immediacy of comics. I think art should not be judged on the price of the materials or the perfect technical skill but rather the ability of the artist to express an idea.
Which other projects have you been working on / are you planning / would you like to do?
This is my first book. At the moment I am caught up making sure everyone I meet knows who Humboldt is. In the future, I would love to continue to illustrate nature. I am not sure where This will take me just yet but working with Andrea and Humboldt changed my perspective on what art can do. There are still many stories to be told that can inspire climate action. I would like to help tell those stories.