The research agenda can no longer be set from Germany
24.08.2021The research agenda can no longer be set from Germany
In September 2021, the exhibition spaces of the Staatliche Museen zu Berlin (National Museums in Berlin) will open at the Humboldt Forum. At the same time, there are growing calls for a paradigm shift in the handling of non-European objects from colonial contexts. Paola Ivanov, Africa curator of the Ethnologisches Museum (Ethnological Museum) at the Staatliche Museen zu Berlin, explains what has changed already, what still has to change, and how ethnological provenance research works.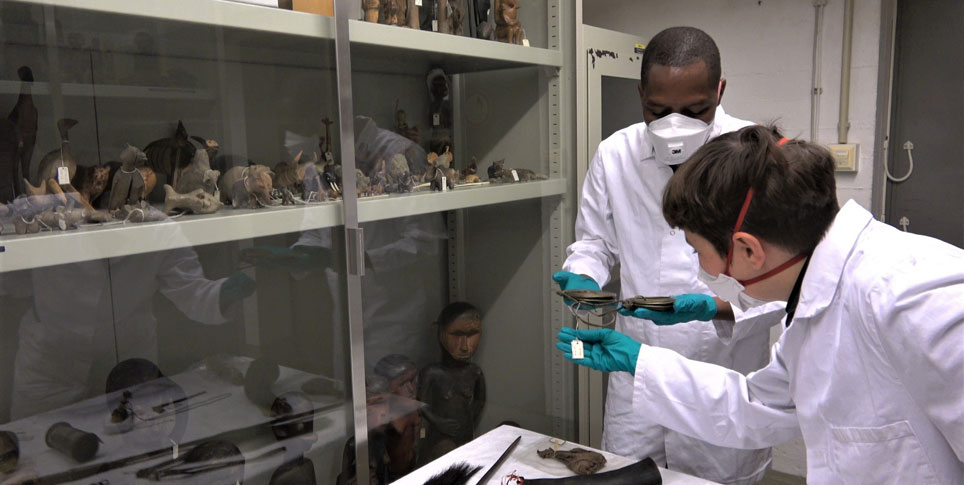 Ms. Ivanov, the history of German colonialism will play a central role at the Humboldt Forum. Does that apply to Tanzania also?
Paola Ivanov: Yes, that was decided years ago and hasn't changed! Between 1885 and 1918, what is now mainland Tanzania belonged to the colony of German East Africa, where the colonial conquest was particularly cruel. So we have to behave especially responsibly in our handling of the objects that came to Berlin during that period. The Tanzania collection of the Ethnologisches Museum is very large, with more than 10,000 objects. During the colonial period, the ethnologists in Berlin developed a real mania for collecting things. They repeatedly asked for objects from the colonies, and then they received them through various channels. Ultimately, they had so many that a scholarly analysis of each was no longer possible. Now we're catching up with that, after more than a hundred years!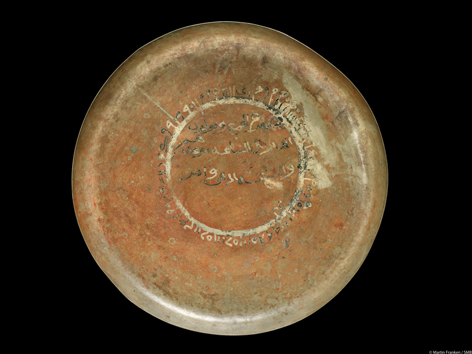 Starting in September, the Humboldt Forum will show some of these items, including a zither and a metal basin made of nickel silver – a specific alloy of copper. Why these particular objects?
Ivanov: They're just the beginning. We are presenting the history of various collections from Africa in a space that is configured as open storage. We show the different ways in which various items at the Ethnologisches Museum came to Berlin. These include objects from Tanzania. We are piecing together their provenance and their mostly violent appropriation by the German officer Hans Glauning. Later on, there will be multiple exhibitions dealing specifically with the objects from Tanzania and the history of the country. These are being prepared in collaboration with partners from Tanzania. And we're very conscious of the fact that any type of exhibition of the objects in Berlin is inevitably, to a certain extent, a reproduction of colonial power.
At the same time, that really has to be illustrated for the public and critically examined, because people often don't know the history of Africa and European colonialism. The zither and the metal basin function as symbols in that regard; they are tangible representations of this colonial violence. Take the metal basin, for example. It was a war trophy and was given to the museum in 1897 by Hans Glauning. It originally belonged to Hassan bin Omari, also known as Makunganya, an influential trader in the southeast of what is now Tanzania. After years of armed conflict, he was finally captured by German colonial forces, sentenced to death and executed. The basin was probably a talisman that was intended to protect its owner in battle. For decades, it lay in a storage room of the museum – more or less forgotten.
And now you've rediscovered it?
Ivanov: You could say that, yes. To begin with, our provenance research led us to its original owner. Then, five years ago, when Tanzanian researchers made a short trip to the region from which it came, they had the inscription on the basin transcribed and translated by Muslim scholars. It is actually a sura from the Koran (54:45, 46) that deals with the punishment of the sinful on Judgment Day. And that was when we first thought we understood what it was, what purpose it served. Unfortunately, we don't know the exact circumstances in which it came into the possession of Hans Glauning, but we suspect that it fell into his hands when the Germans looted the place that Makunganya had retreated to.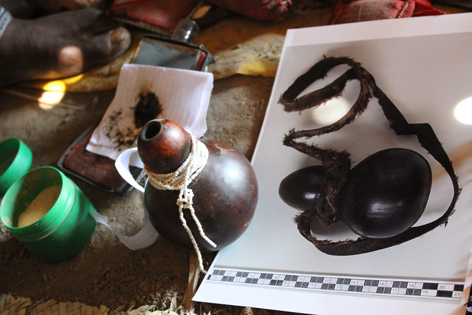 You carry out various projects involving the Tanzania collection of the Ethnologisches Museum together with provenance researcher Kristin Weber-Sinn. What sort of things do you focus on?
Ivanov: First of all, we ask the classic questions of provenance research: What are the biographies of the objects? Who were the original owners, and who may have had them as intermediaries? How exactly did the museum come into possession of the objects, and what significance and roles did they have in the societies they came from? Were these the sort of object that people would have let go of – meaning, was it even possible that they had been traded or sold? In seeking to answer these questions, we place importance on building up a cooperative relationship with Tanzanian research partners, because we are convinced that this chapter of history can only be analyzed together. And we urgently need this exchange for another reason: it's the only way in which we can permanently decolonialize the collection. We would also like to let our African partners decide what should be done with these objects in the future. We would really like to know what significance these objects have for them. Generally speaking, you can say that the research agenda can no longer be set from Germany. The long-running, sustainable discussion and examination of sensitive objects from the colonial period should become an established part of museum work. I would like to see an endowment fund that enables long-term cooperation with colleagues and stakeholders from the societies of origin of the objects in Tanzania and Africa generally. We have partnerships with people from other countries, and the participants have to be able to come to us at regular intervals.
Hasn't that been possible so far?
Ivanov: No, the visits from our Tanzanian partners have always been limited to individual projects. And because of the coronavirus pandemic, we haven't been able to travel for more than a year. But before the pandemic, scholars and artists from Tanzania visited us, and we traveled to Tanzania. That was very moving and emotional. All of the project partners felt the great weight of this violent history. For a long time, not even the researchers in Tanzania knew that there were so many objects from their homeland in Berlin.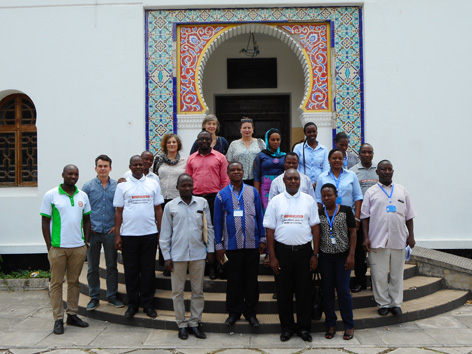 Projects of the Ethnologisches Museum
Since 2016, the Ethnologisches Museum has been engaged in several projects examining selected objects and object groups of the more than 10,200 items in the collections originating from what is now mainland Tanzania. Specifically, in cooperation with partners from Tanzania, the museum has been exploring the history, as well as the past and present significance, of selected objects in the project "Humboldt Lab Tanzania," which concluded in 2018, and in the closely related, ongoing provenance research projects "Tanzania-Germany: Divergent Object Histories?" and "Collaborative Provenance Research on Collections from Tanzania at the National Museum and House of Culture in Dar es Salaam and the Ethnological Museum in Berlin." The museum is also engaged in "Contested Property: Affect and Emotion in Transcultural Normative Conflicts Involving Ethnographic Collections in the Humboldt Forum," which is a subproject of a study with the title of "Affective Societies: Dynamics of Social Coexistence in Mobile Worlds" (SFB 1171) at the Freie Universität Berlin. In this case, participants are examining the role of affect and emotions in the context of the debate over ownership which has arisen with regard to ethnological collections, a debate in which different views of how to approach colonial history come into conflict.
Intensive engagement with historically encumbered collections is still relatively new. How do you deal with it on a personal level?
Ivanov: My colleague Kristin Weber-Sinn and I are quite often really furious and distressed. The violence of the colonial conquests went beyond war: it was the destruction of the means of livelihood for entire populations. There were scorched-earth policies. Again and again, we are shocked by the ignorance and arrogance of the German colonizers and the way the soldiers, devoid of all inhibition, preened themselves with war trophies and often made money on them too. And the museum ethnologists back then tacitly condoned the violent appropriation of these objects. For them, the African societies were "primitive" peoples who hadn't gone through any historical evolution – in contrast to the "civilized" peoples of Europe. For colonial officials and officers, looting objects for the museum in Berlin was part of the day-to-day work of the colonial service – including during military expeditions, when entire villages and towns were plundered and livestock and ivory were seized, for example. It is good that the process of reappraising this history has now begun. But we also have to note that we are still at the beginning. This is a learning process, and we don't yet know where it will lead. What effect our debates and dialogs will have on the museum sector in Tanzania and Germany remains to be seen.