Busoni between the lines
22.08.2016Busoni Between the Lines
Busoni's papers, bequeathed to the Staatsbibliothek zu Berlin, demonstrate that the city's long-time resident was a man of many talents. A virtuoso pianist, he wrote in seven languages, sketched caricatures on hotel napkins, and envisaged the music of the future.
Ferruccio Busoni was born 150 years ago. Since September 2016, he has been back on Berlin's cultural scene. To celebrate this anniversary, the exhibition "BUSONI. Freedom for Music!" is being held jointly by the Kunstbibliothek (Art Library), the Staatsbibliothek zu Berlin (Berlin State Library), and the Staatliche Institut für Musikforschung (State Institute for Music Research). To find out more, we talked to its curator, Marina Gordienko.
I went to meet Ms. Gordienko in the Music Department of the Staatsbibliothek zu Berlin. It contains papers from the estates of around 480 composers and musicians. The largest of them is, without doubt, the Busoni estate. Ms. Gordienko began work on it ten years ago, drawing up a catalogue of the contents and preparing them for study by scholars. Altogether it comprises 360 musical manuscripts, 180 textual manuscripts and libretti, 600 concert programs and reviews, and 600 photographs. There are also around 9,000 letters, including 2,000 written by Busoni himself, many of them with lovingly drawn illustrations. In addition to musical compositions, Ms. Gordienko shows me a selection of his correspondence as we browse through the archive. Among the recipients are leading lights of the avant-garde, including those from outside Berlin and even outside Europe. Busoni kept up a regular correspondence with such figures as the composer Arnold Schönberg, the author Stefan Zweig, and the painter Umberto Boccioni. These priceless documents reveal Busoni to be not only a talented author and composer, but above all a visionary who was keen to share his thoughts on the music of the future with his fellows around the world.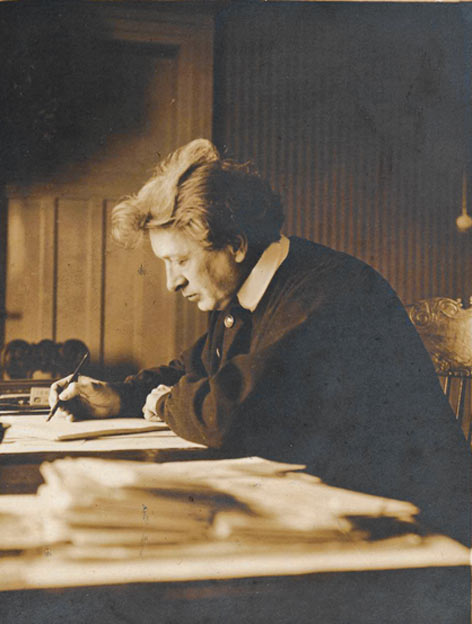 Musikabteilung der Staatsbibliothek zu Berlin
The Music Department holds the largest music collection in Germany – and one of the most important in the world. This includes autograph manuscripts by important composers, as well as many bequeathed estates, permanent loans, and collections of letters written by figures in the world of music. In addition, the department is involved in national open-access projects and has a large collection of specialist literature available to scholars, as well as other services.
A Sarcastic Nonconformist
The composer was a prolific writer, often filling up to ten pages of hotel notepaper at a time on his visits to centers of culture around the world. The 800 personal letters to his wife Gerda are particularly revealing. In an introspective manner, he shares with her all of the absurd experiences and adverse circumstances of everyday life. At dinner in a hotel, for example, noticing a doleful figure sitting at a nearby table, who is listlessly spooning his soup, he deftly sketches him on his notepad and adds a punning comment: "Here in Essen, the food [Essen] does not taste all that good."
Busoni was no stranger to irony and sarcasm, as his short opera Arlecchino shows. The hero of the title, Harlequin, is presented as a moralizing figure and an ironic commentator. Ms. Gordienko knows of a letter that refers to the composition. Writing to the pianist Margarete Klinckerfuß, Busoni discusses criticism of the caustic tone of his opera. An attentive listener would surely have noticed that Harlequin and the composer speak with one voice.
Busoni had high expectations of his audience as a concert pianist too. Writing home from Chicago, he complains that the city is ruled by money and that people don't listen when he is playing. He expresses dissatisfaction with his role as a mere interpretative artist. Angered, he paints a new coat of arms for the city, which features pigs devouring each other in front of a burning slaughterhouse.
A Traveler Attached to Home
From Moscow to Vienna via Helsinki – Busoni was tireless and unsettled. He had to cope with concert tours lasting several weeks, sometimes taking in three countries in one week. He missed his family, especially when he was on tour in the United States. While in America, he drew inspiration from experiments with electronic sounds being carried out by musicians such as Wilhelm Middelschulte and Zainab Bernhard, and he developed a theory of a musical system based on intervals of a third. Some of his original drafts, including scales, are shown in the exhibition. Ms. Gordienko, however, describes him as less of a cosmopolitan than an enterprising European who felt attached to his multinational roots.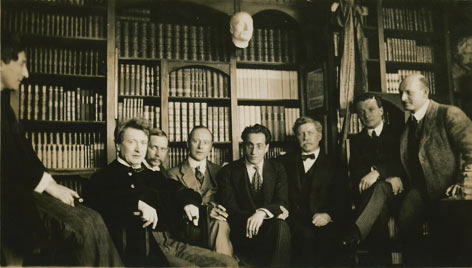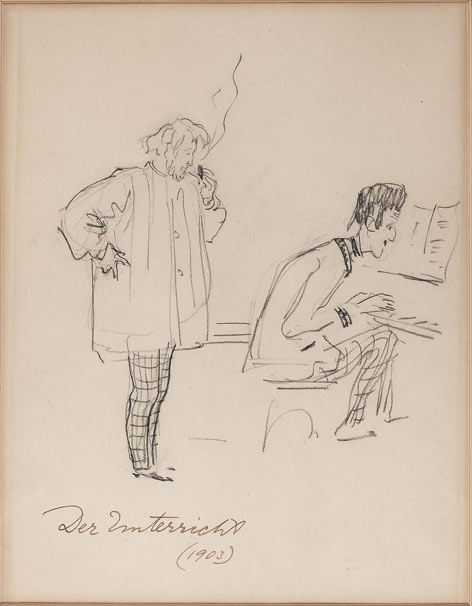 Berlin was Busoni's last stop. He arrived in 1894 and stayed there for thirty years, apart from an interlude during and after the First World War, which he spent in Switzerland. Busoni preferred life in the German cultural metropolis to provincial centers. In a letter from Bologna, he expresses his displeasure at the uncultivated atmosphere, as he sees it, and complains that the people have a rural mentality and understand nothing of his profession. Busoni gladly returned to Berlin in 1920, after being appointed head of the master class in composition at the Prussian Academy of Arts. Much of the time that he spent in his large apartment at Viktoria-Luise-Platz was devoted to teaching. Ms. Gordienko describes him as a "selfless and passionate" music teacher, who "helped talented young musicians by passing on experience from which he too had benefited as a child." She has found evidence of this in his papers again and again. One of the letters on display reveals that the famous composer and virtuoso pianist Franz Liszt once asked Busoni's mother whether he might listen to her son – already known as a child prodigy – play. This was a valuable opportunity for young Ferruccio.
A Well-connected Workaholic
The pleasure of exchanging thoughts about music always took priority in Busoni's life, and his correspondence focuses on particular questions that are of burning interest to him. "As is often the case with artists, these discussions were mostly on a professional basis," says Ms. Gordienko. She explains that Busoni's peripatetic lifestyle did not leave him in a position to maintain deep friendships, if only for lack of time. There were certainly periods of intense contact with colleagues, as when he collaborated with Karl Walser on an illustrated work. The exchange of letters with his wife Gerda was of a different nature, reading more like a daily diary. What he writes to her also conveys a sense of deep attachment. From thousands of fascinating letters, only one true friendship emerges: that with his beloved Gerda.