A Key Unlocks Many Doors
25.10.2022A Key Unlocks Many Doors
From harpsichords to typewriters to computers: the Musikinstrumenten-Museum traces the evolution of keys and keyboards in an inclusive new exhibition that shows how a gentle press of the finger can change the world.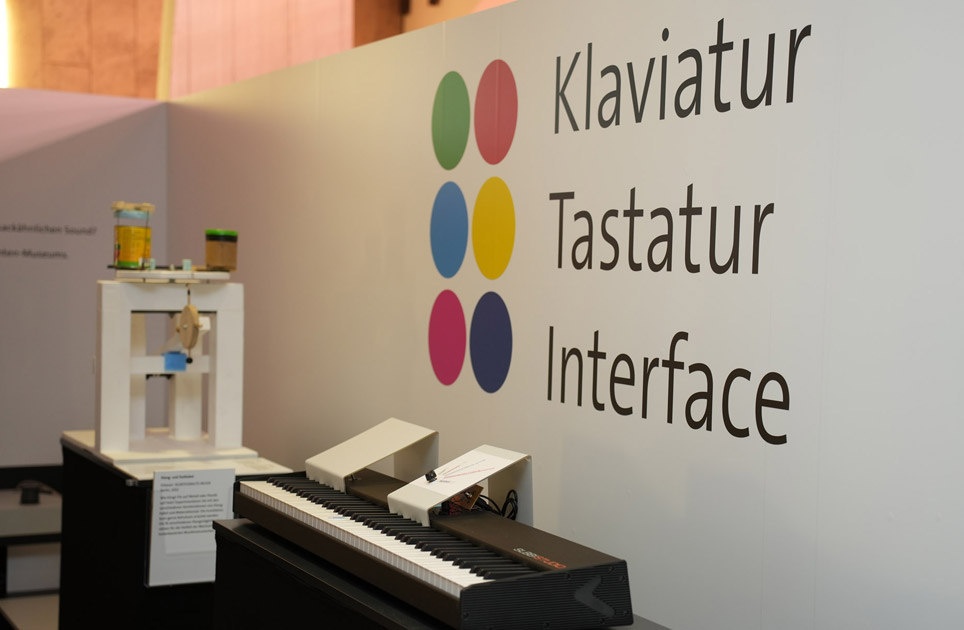 In this day and age, most of us use keys and keyboards all the time, and we would be hard-pressed to think of a device – be it a household appliance, computer, or tablet – that doesn't have them. We get our coffee in the morning, our news at night, and all manner of things in between simply by pressing a button. This now ubiquitous technology was originally used in keyboard instruments like the harpsichord or piano, and learning to play these instruments required fine motor skills and a great deal of practice. But at least students could rely on the fact that the keys were standardized: they were always in the same place and always produced the same sounds. Perhaps, wondered Italian inventor Pellegrino Turri, the same principle could be used for other purposes? Maybe to print letters on paper? In 1808, hoping to help a blind countess of his acquaintance, Turri created the first truly functional typewriter. The invention went by different names, including "literary piano" in English and cembalo scrivano (writing harpsichord) in Italian.
A new exhibition at the Musikinstrumenten-Museum (Museum of Musical Instruments) traces the history of this invention and subsequent developments up to the present day. Called Keys – Keyboard – Interface, it is not just an exploration of the cultural history of keys. For curator Mireya Salinas, it is also a welcome opportunity for inclusion: "From the very beginning, the exhibition was conceived as a way of reaching out to blind, visually impaired, and sighted visitors. We had been asking ourselves how we could make the Musikinstrumenten-Museum truly open to everyone. To answer that question, we conducted a thorough review of the museum's accessibility issues and resolved to make the building more easily navigable for people with disabilities." The museum partnered with the German Federation of the Blind and Partially Sighted (DBSV), which put together a group of experts led by Reiner Delgado. The result is an exhibition that uses the latest technology and design concepts to break down barriers, engage visitors and create shared experiences. Visitors can explore the physical exhibition in person or go on a special virtual tour from the comfort of their living room sofas. Each option has its own appeal, but those who do make their way over to the museum in Tiergarten will have the advantage of being able to touch and try out many of the exhibits.
Exhibition "Keys – Keyboard – Interface"
Until Dec. 31, 2022
Open Tue., Wed., Fri. 9 am – 5 pm, Thur. 9 am – 8 pm, Sat. + Sun. 10 am – 5 pm, Closed on Mondays
Musikinstrumenten-Museum des Staatlichen Instituts für Musikforschung
Tiergartenstrasse 1 (main entrance in Ben-Gurion-Strasse), 10785 Berlin
Tel. +49 (30) 25481-178, kasse@mimpk.de
Inclusion brings old instruments back to life
Traditionally, the golden rule of museum-going has been "don't touch." When asked if that still applies, Mireya Salinas laughs: "Of course it does, and that shouldn't change," she says. "But we've come up with something new. We've selected five historical instruments – a glass harmonica, clavichord, hurdy-gurdy, regal, and Mellotron – and set up an interactive station for each of them. These stations have each been furnished with a keyboard that allows visitors to recreate the sounds of the instrument exhibited nearby. Samples have been recorded on all of the instruments, which are otherwise rarely heard, and these can be played at the various stations. Should visitors feel inspired, they can compose small pieces of their own by combining the samples. This is even easier at home, since the audio files can be downloaded, at no cost." That is a great idea, especially considering that the samples are so different from anything found in a standard digital sound library.
After all, how many people these days know what a glass harmonica sounds like? Rare is the person who has heard Mozart's Adagio in C major for Glass Harmonica, or his last piece of chamber music, a quintet for glass harmonica, flute, oboe, viola and cello. Both of these works were created at the request of the blind virtuoso Marianne Kirchgessner (1769–1808), who performed to great acclaim throughout Europe. Now, visitors can put on a set of headphones and recreate those sounds, taking inspiration from the instrument itself, an impressive 120-centimeter-long glass harmonica that rests in a case nearby.
Generally speaking, anyone who has ever run their finger along the edge of a glass of water will have heard these ethereal sounds before. But creating real melodies, with distinct tones, can only be done here – and it's a lot of fun! While the interactive stations are popular with everyone, regardless of whether or how well they can see, it is actually the blind and visually impaired that we have to thank for them, since they were the ones for whom the stations were originally created. "The conclusion that we overwhelmingly came to," says Mireya Salinas, "is that inclusion benefits everyone. It gives all of our visitors an opportunity to heighten and sharpen their senses. And we're going to make the stations a permanent part of the museum so the public can use them even after the exhibition is taken down. This decision was guided in part by the museum's commitment to sustainability, and in that spirit as well, the exhibit pedestals were made of recyclable materials.
Music as creative nexus between people and machines
The pedagogical design as a whole is worthy of emulation: every station has removable text panels with inverse printing, black–on–white and white–on–black, depending on the needs of the reader, as well as translations in Braille. The virtual tour takes visitors through the exhibition and the museum and explains the various exhibits. A specially created, German-language podcast called "Tasten Talk" (key talk) goes into more depth, shedding light on the project itself as well as selected instruments. The museum also offers "welcome guides" – specially trained staff members who give guided tours to visitors with visual impairments.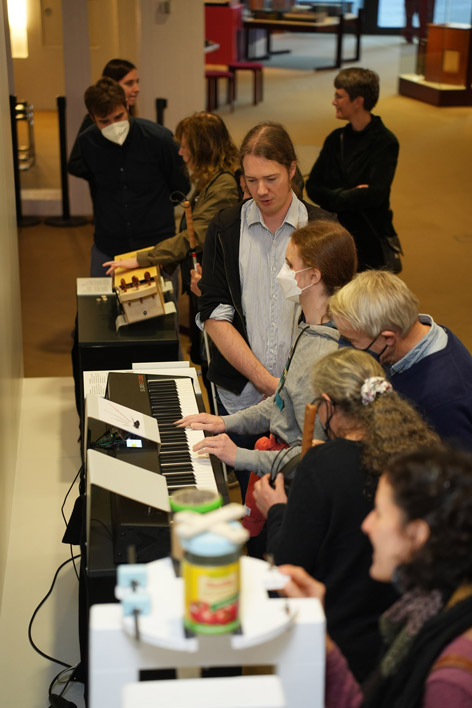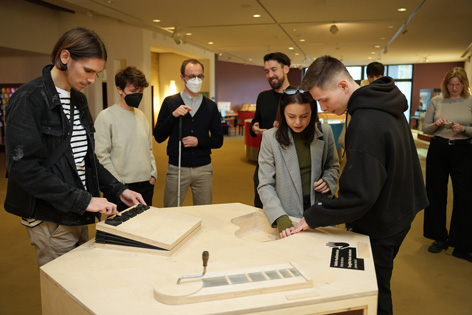 Ultimately, the project also conveys a deeper understanding of what an interface is: a point at which two different media – say, a person and a machine (an instrument, telephone, etc.) – meet and interact. An interface might be the bow that allows a violin to be played, or a computer keyboard used to interpret a waltz. Students majoring in communication design at the Hochschule für Technik und Wirtschaft Berlin (University of Applied Science) wondered how one might develop a tactile and intuitive music interface that would be modern and yet also pay homage to its historical predecessors. They came up with an interactivity island that allows visitors to give free rein to their creativity.
Old instruments and new sounds, new instruments and old sounds – this model project shows that music knows no borders. And it conveys this message with a light touch, by entertaining, surprising, and exciting its visitors. But no description of it would be complete without mentioning one more exhibit: the legendary hurdy-gurdy. Once the instrument of beggars and aristocrats alike, now it can be played in digital form by museum-goers. Although the singer in Franz Schubert's "Der Leiermann" (The Hurdy-Gurdy Man, the last song in the Winterreise song cycle from 1827) is accompanied by a piano, the melodic yet mechanical-sounding repetitions immediately call to mind the mournful tones of a hurdy gurdy, which tells a tale of despair and of yearning for the end. This is just one of the touching ways the exhibition brings the past into the present and keeps tradition alive in modern-day practices. Though we may arrive as strangers, as it says in Winterreise, we need not part as such: in this universe of tones, notes, sounds, and reverberations, there is space and warmth and music for everyone.