Will Priam's Treasure Soon Be Shown on Museum Island?
News from 06/28/2021
Future relations with Russia — are politics and culture going separate ways? That was the subject of a discussion with Michael Kretschmer, Marion Ackermann and Hermann Parzinger on June 10, 2021.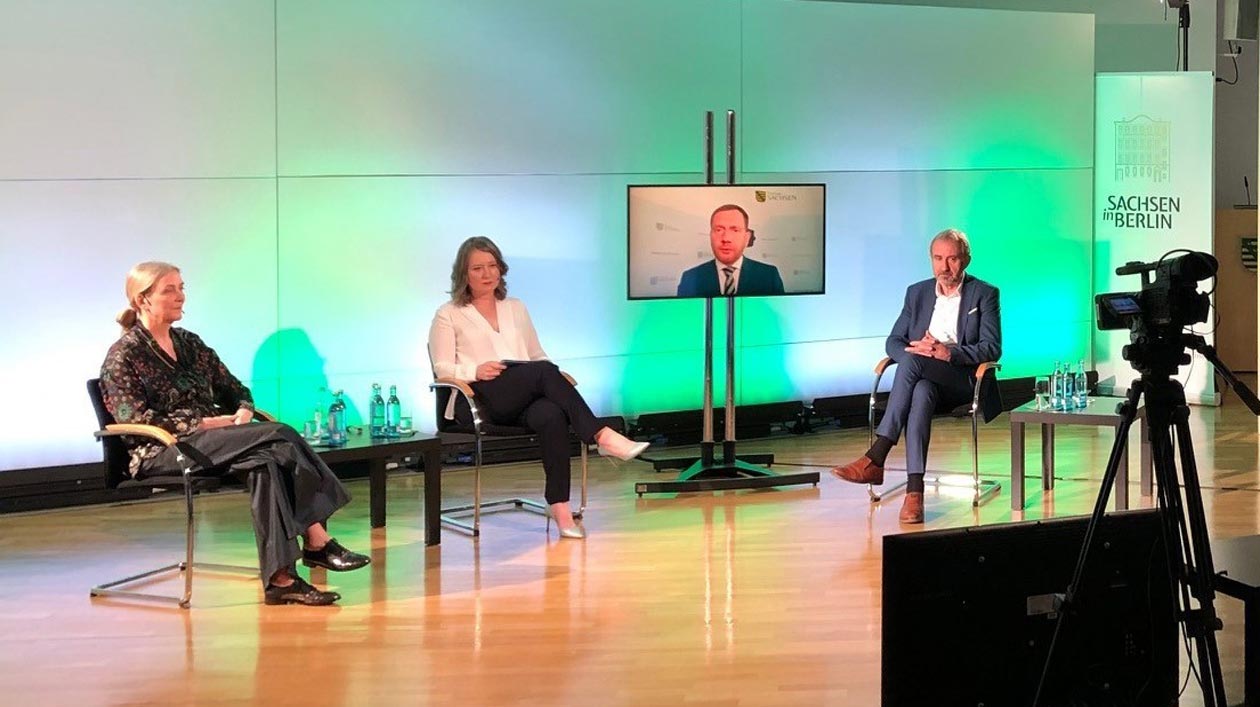 Text The evening panel discussion was hosted by SPK President Hermann Parzinger and State Secretary Conrad Clemens, Representative of the Free State of Saxony to the Federal Government. It was moderated by journalist Anastassia Boutsko and streamed live from the Representation of the State of Saxony in Berlin. In the context of the ongoing exhibitions with Russian partner museums being held by the Staatliche Kunstsammlungen Dresden (Dresden State Art Collections) and the SPK, the conversation centered on the process of German-Russian cultural exchange. The topic of looted art was also raised.
Minister President Kretschmer expressed the hope that politics and culture are not going in different directions in relations with Russia, but merely at different speeds. Although he hoped that Germany would maintain a political dialog with Russia, he also noted that "art and culture are a way of talking with one another, of having an exchange, when other forms aren't possible."
The director general of the Staatliche Kunstsammlungen Dresden, Marion Ackermann, emphasized the importance of the "people to people" principle in her work with Russian partners and the role of intensive exchange as a means of building bridges. Together with the State Tretyakov Gallery, she is currently presenting the joint Russian-German exhibition "Dreams of Freedom: Romanticism in Russia and Germany" in Moscow. Masterpieces of romanticism from Russia and Germany are being shown there together for the first time, in direct relation to one another and from a pan-European perspective. The exhibition will open in Dresden in October. It is important, Ackermann said, to have deep knowledge of each other's culture. Art and the way it is presented can certainly serve as a way of commenting on current affairs and the political issues of the day, she added.
Hermann Parzinger, co-chairman of the Cultural Affairs working group of the Petersburg Dialogue, pointed out that this bilateral discussion forum is currently being put to a hard test, considering that three German organizations taking part in it have recently been declared to be politically undesirable. But the dialogue is important and must be continued, he affirmed. It is based on trust and friendship that have developed in the course of close cooperation over many years.
In the joint research into looted art in collections, the issue of restitution has always been avoided, because that belongs to the realm of politics. As to whether he thinks that working together constructively while leaving the big controversies aside is an approach that can be applied to other areas, Parzinger said:
"I think we have found a very good way forward and shown how one can turn a serious problem into something that now links the Russian and German museums in a closer relationship than with other museums in the world. One could almost describe this distribution of cultural property as 'shared heritage'; we are jointly responsible for this legacy. We can't make any political decisions, but together, we want to take on this responsibility. And of course that's something that can be applied to other countries too. There's an ongoing debate about collections from colonial contexts, such as the Benin Bronzes. I was in Benin three weeks ago and had very good talks, and it's much the same there: we want to return objects, because it's clear that this was a colonial injustice, and conversely, what we heard from all of the people who we talked to there, from members of the government to the King of Benin, was: 'But we also want to cooperate with Germany. We don't just want to have things back; we want our art to continue being shown in German museums, and above all, we want to make that the basis of a close partnership.' "
And in relation to the growth of cooperation between the SPK and Russia, Parzinger also hoped that it would one day be possible for Germany to host something like the Iron Age exhibition, more than 80 percent of which involved looted art taken during wartime. At present, an exhibition of that kind can only be shown in Russia, because of the differing legal positions. "If an exhibition like that could be shown in Germany at some point! That would be another step toward improving our exchange. If, for example, the Schliemann treasures and other things could be shown here in Berlin at the Neues Museum, and then go back to Russia. That's part of what shared heritage means. That's what we're saying about the colonial objects: circulation has to be possible too; just transferring the ownership of property doesn't automatically resolve everything. That often involves separation, of course, but if things enter into a new form of circulation, they become more strongly connected than before. And culture has to connect, not separate!"
Links for Additional Information
To overview