A wooden ceiling that seems to float
News from 02/23/2021
A section of wooden ceiling has now been mounted in the Domed Hall, where objects from the Silk Road region will be shown, part of the outstanding collection of the Museum für Asiatische Kunst of the Staatliche Museen zu Berlin. Chief restorer Toralf Gabsch explains the background.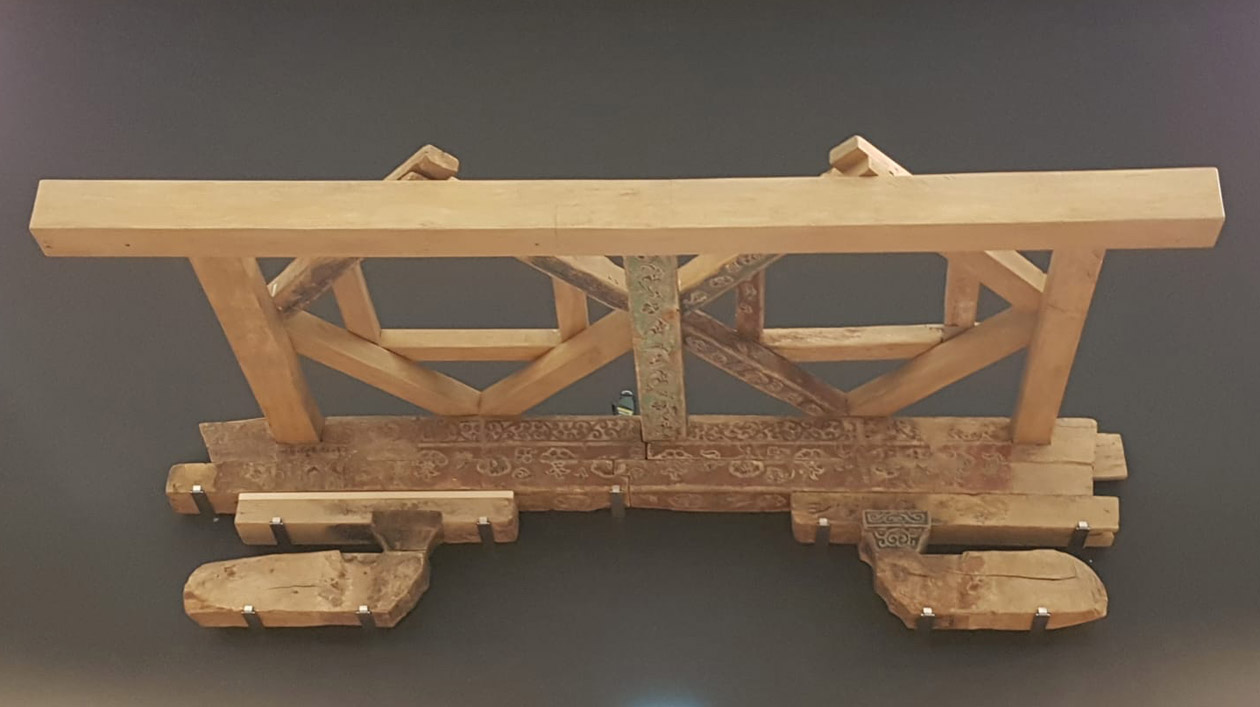 What is special about the wooden structure that has now been mounted in the Domed Hall?
This wooden ceiling is special because it is unique. No other museum in the world possesses a comparable object, dating from the eighth century with repainting from the tenth century. The wooden structure that Albert Grünwedel found in 1902 during his first expedition to Central Asia, which can now be seen in the large Domed Hall of the Humboldt Forum, was originally the ceiling of a temple or a gate porch. It was designed as a cassette construction. It is made of poplar wood and painted with Buddhist motifs using the tempera technique.
How was this object restored and how was it installed in the Humboldt Forum so that it almost appears to float?
The object has been comprehensively restored over the past two-and-a-half years by restorer Hassa Tiedt in Weissensee, Berlin. Where parts of it are missing, the structure has been completed with poplar-wood beams and struts, which have been artificially aged to match. A lot of effort also went into making the hidden supporting structure, which has been fitted so sensitively that the ceiling seems to float freely.
What is the moving-in schedule for the weeks to come?
The next series of items on the moving-in schedule, planned for March and April, are the African and Oceania collections and the stone sculptures of the Indian collection depicting Buddhist and Hindu subjects. They are due to be followed by the East Asian and Central Asian collections.
The interview was conducted by Stefan Müchler.
Links for Additional Information
To overview