Glamorous donation – Kunstgewerbemuseum receives a feather cap by fashion designer Anna Düll
News from 10/22/2020
A few weeks ago, the Kunstgewerbemuseum of the Staatliche Museen zu Berlin was given a valuable feather cap made by the milliner Anna Düll of Heidelberg.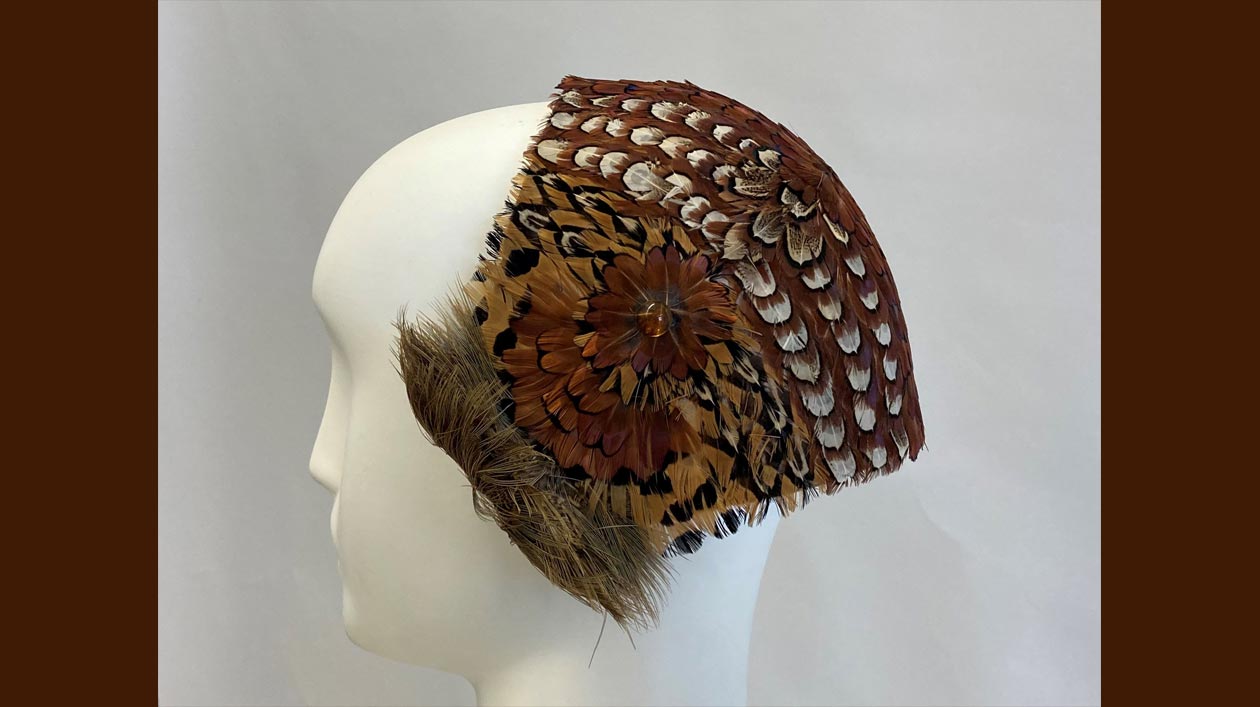 It is only a few months since Katrin Lindemann took up her new post as the curator of fashion and textiles at the Kunstgewerbemuseum (Museum of Decorative Arts) of the Staatliche Museen zu Berlin (National Museums in Berlin). She is currently working on a new presentation of the permanent exhibition for visitors – and one glamorous highlight is already certain: a feather cap from the 1920s, which was donated to the museum a few weeks ago.
This one-off piece was made by Anna Düll (c.1884–1974), a milliner in Heidelberg. "In the 1920s, hats were a typical fashion accessory, with feather caps also enjoying popularity, especially among upper-class women. Although ladies' evening wear tended to use plenty of glitter, the daytime clothing was more restrained. For lending the outfit a touch of extravagance nevertheless, hair adornments like this made an exquisite addition," explains Lindemann.
The cap is entirely covered with small, overlapping feathers, which are mounted flush on a backing cloth. The brown pheasant's feathers change their appearance with the angle of the light, from iridescent orange to red to purple. The cap is finished on one side with a spray of protruding feathers, which gives it a dynamic air.
Studying this work of the milliner's art presents the curator with a number of challenges: "We will need to study the feathers more closely for the inventory, in due course. Maybe an ornithologist can help us. As for the cap's designer, Anna Düll, it has not been possible to find out anything more about her, as yet; whether she had her own hat salon in Heidelberg is just as uncertain as whether any more pieces by her still exist. The cap bears no further indication of its origin, such as a label with the name of the salon."
The feather cap remained in the Düll family until the death of Anna's daughter, Charlotte Düll (1914–1985). Shortly afterwards, her neighbors Klaus and Brigitte Breuer bought her villa near the River Neckar, subject to the condition that they should manage her estate and look after it. This made them the owners of the feather cap. Ulla Rogalski, a friend of the Breuer family, spotted the cap while looking around the house, and was immediately captivated by it. Around 1995, the Breuers gave her the cap, which she wore a few times on special occasions, keeping it in a small golden box from then onward.
Wanting to ensure that the cap would be in good hands in the future, she gave it to the museum a few weeks ago, on behalf of herself and Mrs. Breuer. "The feather cap is in a very good condition, so we are especially pleased that the donors, Ms. Rogalski and Ms. Breuer, have given it to us," enthuses Lindemann.
Links for Additional Information
To overview