Deutsch-Amerikanisches Austauschprogramm PREP – Öffentliche Veranstaltungen
Event date: 10/08/2018 - 10/12/2018
Location: München
We apologize that this content is available in German only.
EINTRITT FREI, MIT ANMELDUNG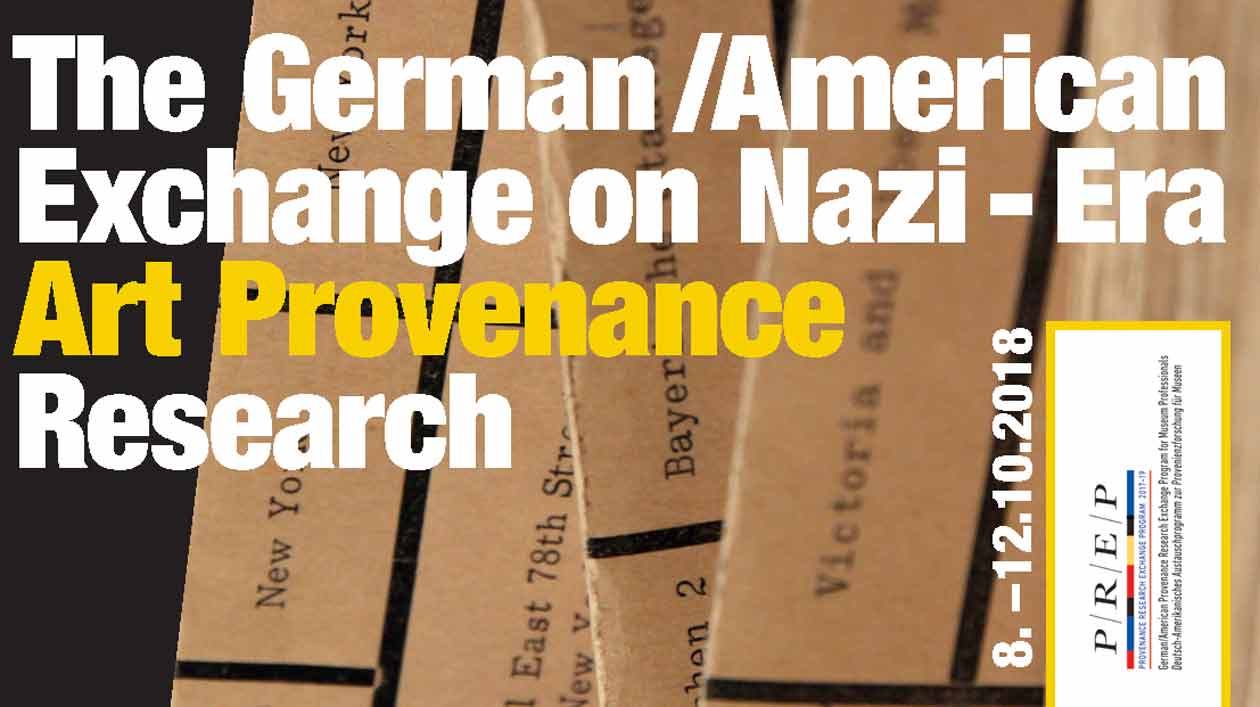 Teilnehmerinnen und Teilnehmer des deutsch-amerikanischen Austauschprogramms zur Provenienzforschung PREP treffen sich in München. Zu diesem Anlass startet das Zentralinstitut für Kunstgeschichte eine Reihe von öffentlichen Veranstaltungen rund um das Thema Provenienzforschung und NS-Kunstraub.
PREP steht für German/American Provenance Research Exchange Program for Museum Professionals. Das Programm richtet sich an Provenienzforscherinnen und –forscher in Deutschland und den USA. Ziel ist es, dass sich Museumsfachleute in beiden Ländern systematisch vernetzen.
Organisatoren von PREP sind das Smithsonian Institute und die Stiftung Preußischer Kulturbesitz. Als Partner wurden gewonnen: das Metropolitan Museum of Art, New York, das Getty Research Institute, Los Angeles, die Staatlichen Kunstsammlungen Dresden und das Zentralinstitut für Kunstgeschichte München. In beratender Funktion wirkt das Deutsche Zentrum Kulturgutverluste (DZK) mit.
In Kooperation mit der Bayerischen Amerika-Akademie und dem NS-Dokumentationszentrum bietet das Zentralinstitut für Kunstgeschichte ein umfangreiches Programm an öffentlichen Veranstaltungen an.
Die Veranstaltungen finden in englischer Sprache statt.
Zeit und Ort
8. Oktober 2018, 17:00–19:30 Uhr
Framing the Monuments Men: Past and Present
Kolloquium

Bavarian American Academy
Barer Str. 19a
80333 München
10. Oktober 2018, 14:30–18:00 Uhr
PREP Colloquium: The Fate of Antiquities in the Nazi Era

Zentralinstitut für Kunstgeschichte
Katharina-von-Bora-Str. 10
80333 München
10. Oktober 2018, 18:15–20:30 Uhr
Provenance Research and Restitution: Managing Collections and Public Expectations
Podiumsdiskussion

NS-Dokumentationszentrum
Max-Mannheimer-Platz 1
80333 München
12. Oktober 2018, 16.00–18.30 Uhr
Challenges of Current and Future Transnational Provenance Research / Tracing Shared Heritage
Podiumsdiskussion in Kooperation mit dem "Arbeitskreis deutscher und polnischer Kunsthistoriker und Denkmalpfleger"

Zentralinstitut für Kunstgeschichte
Katharina-von-Bora Str. 10
80333 München
Kontakt
Die Teilnahme ist frei, um Anmeldung unter prep2018@zikg.eu wird gebeten.
Weiterführende Links
To overview
Bereichsnavigation
---