Modern and user-friendly: the Geheimes Staatsarchiv has a completely new website
News from 05/12/2020
Service and user-friendliness lie at the focus of the fully redesigned website of the Geheimes Staatsarchiv.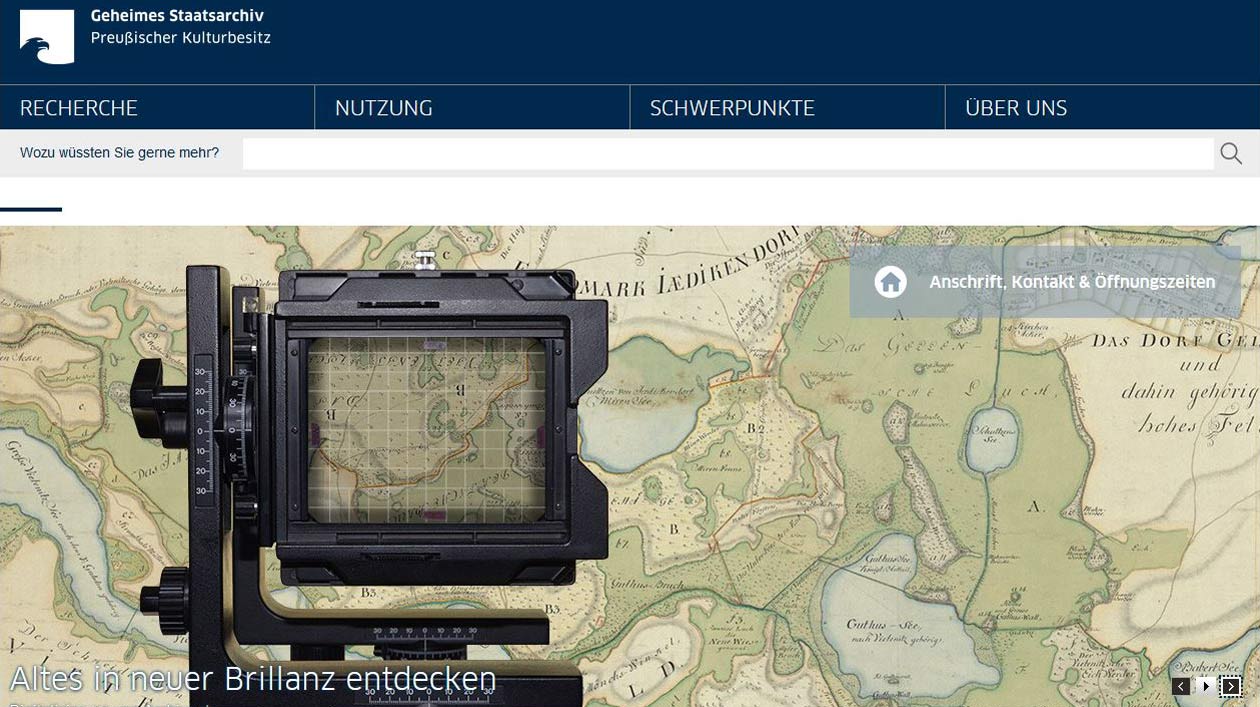 The new website demonstrates that the Geheimes Staatsarchiv Preussischer Kulturbesitz (Prussian Privy State Archives) is a modern facility with a commitment to service. The website has been completely restructured to make it much clearer and more user-friendly. The home page now offers a quick introduction to the archive database as well as access to the OPAC library catalog and the digitized archive material. The research options are explained in detail on-site and online. Also accessible with one click from the home page is the online form for ordering archival material. The information on use and on ordering options is supplemented by audience-based navigation, which is tailored to user groups such as researchers, first-time users, and journalists.

The new themed dossiers offer background information with high-quality visual content on subjects such as the Reformation in Brandenburg and Prussia, and the Great Elector. They are continually being augmented with new content.

The design and features of the website are based on those of the SPK website, thus reminding users that the Geheimes Staatsarchiv is part of the SPK cosmos. The new design incorporates responsive features that ensure its continued accessibility from mobile devices. The relaunch of the website with new content and design was prepared by a working group at the archive, carried out by Graphodata, and financed by the Board of the Foundation.

There is also news from the archive itself: the premises will reopen on May 14, 2020. Prior registration in writing is necessary. All visitors must wear a face mask and are obliged to comply with the rules on distancing and hygiene.
Links for Additional Information
To overview