A Crown for the Centerpiece of the Museumsinsel
News from 05/03/2019
Milestone in the complete renovation and extension of Pergamonmuseum: topping out ceremony for building phase A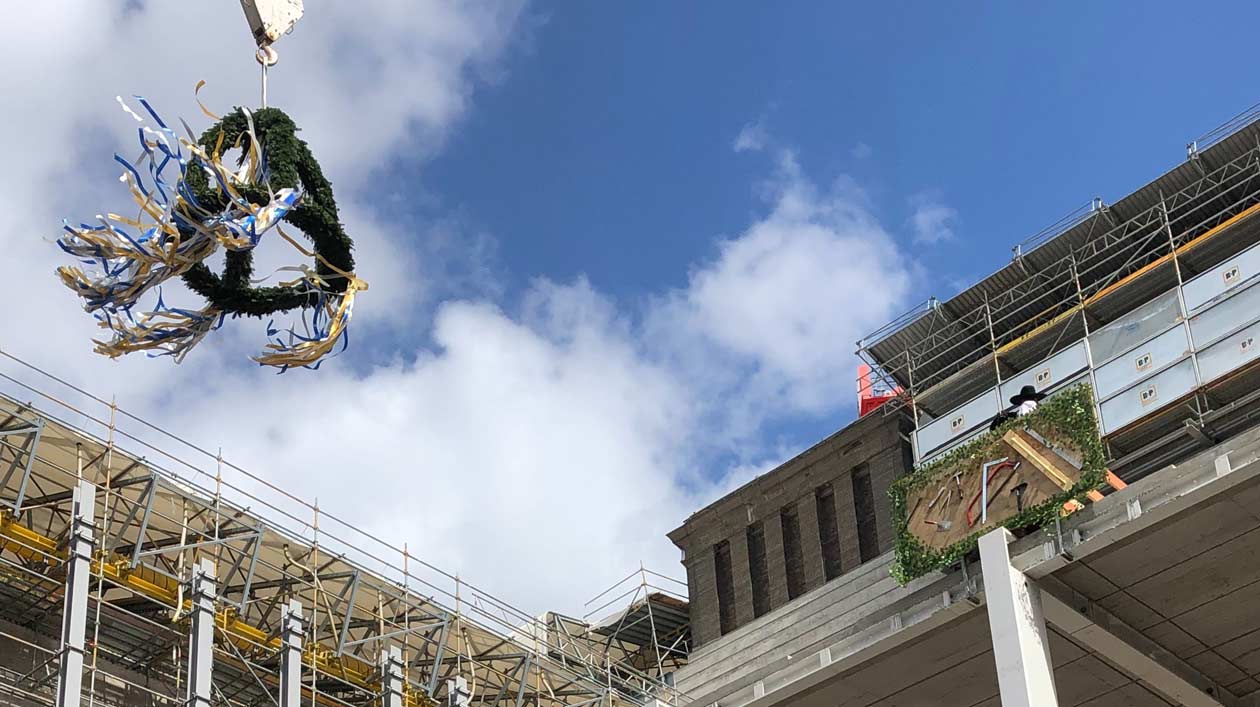 On May 3, 2019, the Stiftung Preussischer Kulturbesitz (Prussian Cultural Heritage Foundation, SPK) and the Bundesamt für Bauwesen und Raumordnung (Federal Office for Building and Regional Panning, BBR) held a topping out ceremony for building phase A of the complete renovation and extension of the Pergamonmuseum (Pergamon Museum). Upon completing the new staircase and finishing the glass ceilings and roofs of the museum's central structure, major parts of the basic construction work were finished, and the extension phase could be kicked off. The section of the future Archeological Promenade below the building is also structurally complete. During the course of the construction project headed by the BBR, the museum will receive a new, centrally located entrance, the Tempietto (little temple); its structure is already part of the museum's new look.
Anne Katrin Bohle, State Secretary for Building and Community in the Federal Ministry of the Interior, Petra Wesseler, President of the Bundesamt für Bauwesen und Raumordnung, Hermann Parzinger, President of the Stiftung Preussischer Kulturbesitz, and Jan Kleihues, architect of the Werkgemeinschaft Pergamonmuseum were present as the topping-out crown was hoisted above the Tempietto. Builders, planners, other involved parties, and numerous guests celebrated the progress on the large building site.
Pergamonmuseum's complete renovation and expansion are based on plans by the architect O. M. Ungers. The project will be completed in two phases so that part of the museum will always be open for visitors. The current building phase, A, affects the building complex's north wing and the central structure, which houses the world-famous Pergamon altar. The southern part of the museum will remain open for visitors during this construction phase. The topping out ceremony marked important milestones of building phase A, which were reached in recent months after complex, special underground work–including a new foundation and foundation reinforcement of the entire building complex–was completed.
"The events in Paris showed us the amount of care and attention with which we must proceed and how much responsibility those who renovate such monumental, fragile buildings have. Berlin's Museumsinsel (Museum Island) has been listed as a UNESCO World Heritage Site for 20 years. The basic renovation and completion are worth the effort. Today's topping out ceremony is a milestone on the road to making the huge, world-famous Pergamonmuseum fit for the future. It is the centerpiece of Museumsinsel and despite being partially closed, it is still one of Berlin's greatest attractions," said SPK president Hermann Parzinger.
Links for Additional Information
To overview