Improved Service and Visitor Accessibility, and 250,000 more Visits to the Museums
News from 04/09/2019
Around 250,000 more visits to the Staatliche Museen in 2018 – from now on, the SPK institutions are offering more service across the board in the form of longer opening hours, new spaces, and digital transformation.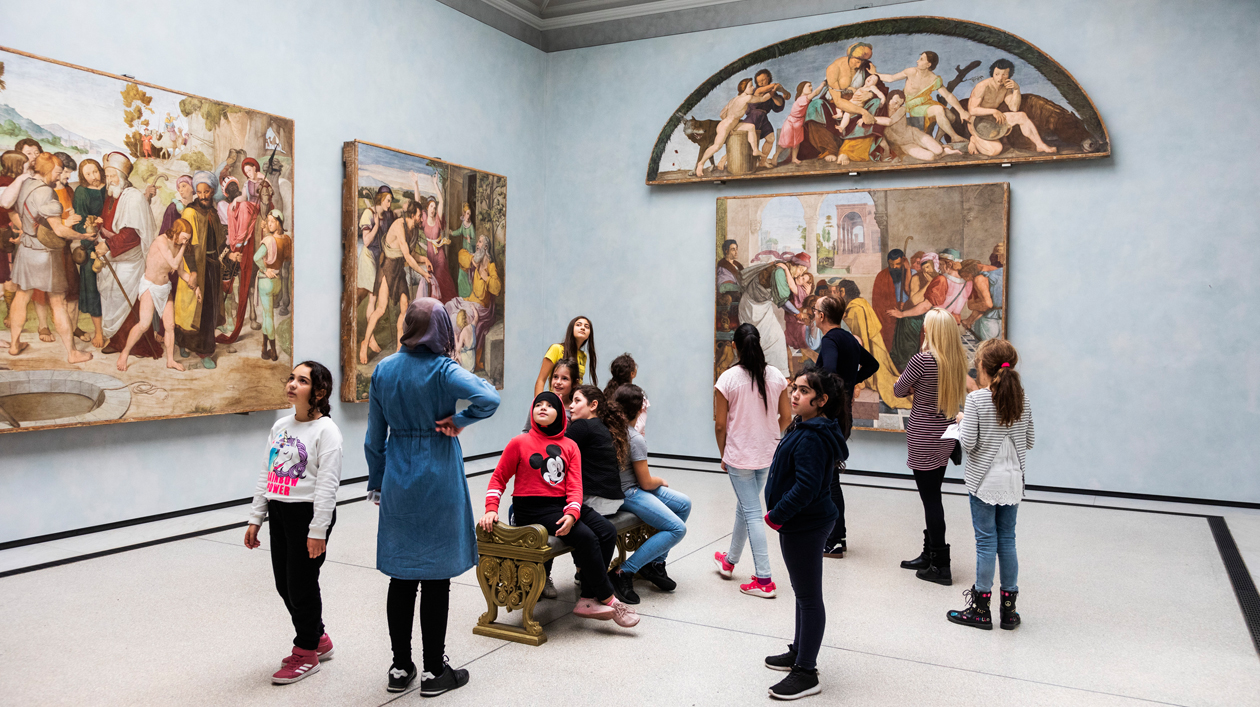 The number of visits to the Staatliche Museen zu Berlin (National Museums in Berlin) showed positive growth in 2018: 250,000 more visits than before.
From now on, the institutions of the Stiftung Preussischer Kulturbesitz (Prussian Cultural Heritage Foundation, SPK) will be even more accessible to visitors and more service oriented. For example, the foyer of the Staatliche Museen zu Berlin's Kulturforum has been remodeled and equipped with a new guidance and information system, as well as four large LED walls. There will be more room for educational and informational programs and free WiFi in the future. When the James-Simon-Galerie and Haus Bastian open on the Museumsinsel (Museum Island) this summer there will be two more buildings that stand for service and hospitality on the one hand, and cultural education on the other.
As of October 1, 2019, the Staatsbibliothek zu Berlin (Berlin State Library) and the Ibero-Amerikanisches Institut (Ibero-American Institute) will extend their opening hours and stop charging for their reader passes; initially for the next two years. The general reading rooms will be open from Monday to Saturday from 8 a.m. to 10 p.m.
In the Geheimes Staatsarchiv Preussischer Kulturbesitz (Prussian Privy State Archives) the new terms of use will include open access to archives, making archived materials easier to use. Digital reproductions can be made quickly and simply. The research rooms now have WiFi.
The Staatliches Institut für Musikforschung (State Institute for Music Research) implemented a digital museum guide in its Musikinstrumenten-Museum (Museum of Musical Instruments). Visitors can not only use it to access information on objects, but also to contact museum research staff directly. "Magical music instruments (and where to find them)," a multi-media tour for children and families, will be available in five languages starting in May. The Institute would also like to point out that it has an international, interactive bibliography of music writings. Free of charge, it registered 573,000 user queries last year and constantly receives new input, especially in German.
The SPK annual report for 2018, which appeared in early April, focused on the topic of usability. In an interview Christina Haak, Deputy General Director of the Staatliche Museen zu Berlin; Ulrike Höroldt, Director of the Geheimes Staatsarchiv Preussischer Kulturbesitz; Wolfgang Ullrich, a cultural scientist; and Nancy Birkhölzer, a service designer, discussed how and to what extent cultural institutions could and should adapt to the needs of the public. A picture essay by Katja Strempel examines everyday life in cultural institutions and captures the moment when people encounter art.
Links for Additional Information
To overview