"Notturno"-Konzert im Humboldt Forum
Event date: 06/05/2020
Location: Humboldt Forum
We apologize that this content is available in German only.
EINTRITT KOSTENPFLICHTIG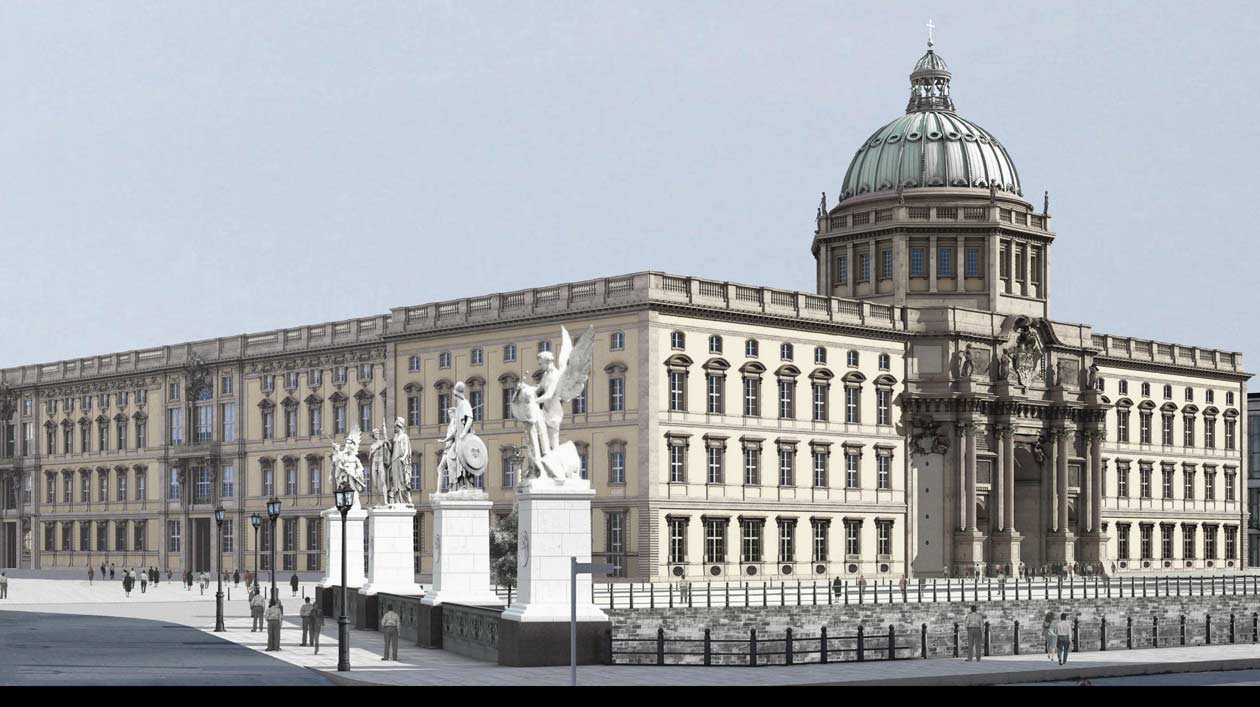 Seit 10 Jahren gibt es die Konzertreihe "Notturno". In der Jubiläumssaison 2019/2020 gibt es wieder drei Konzerte – für das dritte geht es am 5. Juni 2020 ins Humboldt Forum.
Die Konzertreihe "Notturno", die das DSO seit 2010 partnerschaftlich mit der Stiftung Preußischer Kulturbesitz veranstaltet, feiert in dieser Spielzeit ihr 10-jähriges Bestehen. Sie empfängt dreimal pro Saison musikbegeisterte Nachtschwärmer in Berliner Räumen der Kunst und des Wissens. Zunächst, ab 21 Uhr, können die Sammlungen unter kompetenter Führung durch Direktoren und Kuratoren erkundet werden, um 22 Uhr finden dann rund einstündige Konzerte mit "Nachtmusiken" für unterschiedlichste Besetzungen statt. Im Dialog von Klang, Raum und Exponat eröffnen die "Notturni" ganz neue Facetten der Kunstrezeption und bringen Musik dorthin, wo zu später Stunde sonst nur Stille und Dämmerlicht die schönsten Zeugnisse des menschlichen Kulturschaffens umhüllen.
Programm
Bearbeitungen chinesischer Volkslieder für Blechbläserquintett von Caleb Hudson und Eric Reed
Kerry Turner, "The Casbah of Tetouan" für Blechbläserquintett
Greg Danner, "Serengeti" für Blechbläserquintett und Schlagzeug
Alexander Arutiunian, "Armenische Szenen" für Blechbläserquintett und Schlagzeug
Mitwirkende
Falk Maertens, Trompete
Raphael Mentzen, Trompete
Antonio Emilio Adriani Soto, Horn
Andreas Klein, Posaune
Johannes Lipp, Tuba
Henrik Magnus Schmidt, Schlagzeug
Blechbläserquintett des DSO
Zeit und Ort
5. Juni 2020, 22:00 Uhr
Einlass ab 20:45 Uhr, Kurzführung 21:00 Uhr
Humboldt Forum
Kontakt
Bestellungen nimmt der Besucherservice des DSO unter 030 / 20 29 87 11 oder per E-Mail entgegen. Eine Online-Buchung ist auf der Website des Deutschen Symphonie-Orchesters Berlin möglich.
Weiterführende Links
To overview